First Class Performance Degree for AGC
Post Time:Sep 14,2011Classify:Company NewsView:283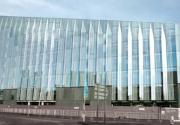 Excellent thermal efficiency and aesthetics have won AGC Glass a place in the new Business School and Student Hub at Manchester Metropolitan University's city centre campus. The diamond-shaped building's innovative façade is constructed from around 8,000 sq m of unitised panels, alternating between flat vision panels and projecting bay panels assembled using AGC Glass.

A cantilevered section, featuring a dichroic film from a specialist supplier incorporated into the projecting panels, creates a different colour effect depending on the angle from which the building is viewed and the light conditions. The building's dynamic design also includes extensive use of grey and white ceramic fritting to the internal and external faces of the double glazed units to achieve the architect's desired aesthetic effect as well as to control heat gain and modulate light into the building.

The building's glazed façade involved almost 10,000m2 of AGC's Stopsol Supersilver Clear reflective glass to provide enhanced solar protection and high light transmission. In addition, 1,000 sq m of 10mm Stopray Clearvision 50T from AGC was specified. This magnetron coated low-emissivity solution combines solar control in summer with thermal insulation in winter, and has the added benefit of Clearvision's extra clarity. This option is also one of AGC's toughenable coated glasses, designed to optimise processing efficiency, flexibility and profitability.

Manchester Metropolitan University's new Business School and Student Hub boasts strong green credentials with the use of renewable energy sources, energy efficient heating and lighting, and high performance glazing courtesy of AGC and its partners. The building has been certified 'Excellent' under the BREEAM environmental assessment scheme.
Source: http://www.yourglass.comAuthor: shangyi