BRIDGTON - A tour of the Maine Antique Bottle and Glass Museum covers less than 100 feet and lasts about an hour.
In a snail-paced stroll around a one-room carriage house, Walt Bannon takes visitors to the bed of the Saco River and inside the medicine cabinets of 19th-century homes.
The museum, which opens today, contains hundreds of handblown glass artifacts that Bannon found in Maine's woods and waterways, and each of them has a story.
Shelves along the walls of the post-and-beam annex hold empty bottles embossed with the names of pharmacists and the so-called quack remedies they once contained. There's Dr. Kilner's Swamp Root Kidney Cure and a bottle of "soothing syrup" to subdue crying babies.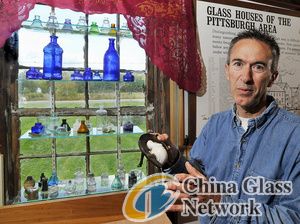 "They could pretty much claim anything," Bannon said of medicine in the late 1800s.
Bannon can date the bottles by the markings in the molding. Around the turn of the 20th century, he said, most companies started using automatic bottle machines. "That's where my interest cuts off," he said.
Bannon, 56, has been building his collection of handblown glass for about six years. He started by rummaging through the woods near his home in Bridgton, where he lives with his wife, about two miles from the museum.
Since then, he has scoured forests in Fryeburg, dug through dumps and old barns, and become a certified scuba diver, taking his expeditions 30 feet below the surface of Maine lakes and rivers.
For a few years, Bannon sold many of his finds over the Internet to bring in money when he was having trouble getting work in industrial electronics, which he studied in trade school.
Bannon, who now works as a substitute teacher and a musician in a Celtic band, said he decided recently that it was time to stop selling his pieces and start sharing them.
"I just really enjoyed the hobby and thought, it's time to take it to the public," he said.
Peg Normann, a friend of Bannon's from the Bridgton Historical Society, offered up the outbuilding of her old farmhouse on Route 107 for the museum.
After an open house this afternoon, he plans to hold tours every Thursday evening and by appointment. Bannon hopes to attract school groups that are interested in learning about making and collecting glass.
He has already taken on a few pupils. Nadine Nichols, who lives down the road from Bannon, said her three daughters, now 12, 15 and 17, have been following him on his walks into the woods for the past six years.
"There's always somebody -- more than one, usually a group -- that congregates around him," she said of Bannon, whose two children are grown.
Nichols said her daughters dig through dirt to look for glass, as an alternative to watching television.
"He's kind of taught them to view their surroundings in a different light," she said.
Each child who tours the museum will get a certificate of learning.
In addition to the display of glass containers, from ink jars to whiskey jugs, Bannon has set up in the museum a tower of boxes with a camera that simulates diving for artifacts. There's a library with 180 books about glass and a display, with samples of sand and a miniature stove, that shows how glass is made.
Near the end of Bannon's tour is a hand-operated bottle capping machine. With the $5 admission fee, visitors can cap their own Coke bottles to take home.
While demonstrating the machine on a recent morning, Bannon said he has no qualms about giving away the machine-made bottles he's found.
"It doesn't tell a story," he said.