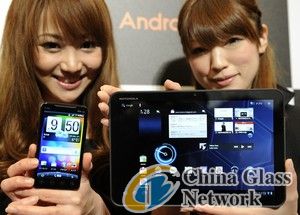 Corning (
Corning has a market cap of $21.5 billion fed mostly by the television and mobile device markets, including companies like Sony, Dell, HTC and LG, which utilize Corning's Gorilla Glass, in their products. While GLW has much of the pervayours of Google's Android operation system, their primary competition comes from companies with ties to other major mobile devices like Apple's iPhone and iPad. Recent reports indicated that Apple was rumored to be investing $1 billion in a Sharp Corp. factory that would produce LCD screens for all Apple products.
Although Corning has experienced a tough few months recently, it has proven resilient and maintains good long-term prospects. One believer in the investment potential of the glass manufacturer is Taesik Yoon, editor of
GLW also announced it will buy back up to $1.5 billion in common stock over the next 15 months." Corning believes that the current stock price is not in line with the long-term value of its business.
For the short term Yoon believes that GLW has positioned itself well to survive what it predicts will be a slower second half of the year than originally expect. "While GLW acknowledged some similarities to the challenging market environment that plagued 2008–which included industry oversupply and price erosion–the company has taken numerous measures to prevent a repeat of these conditions," says Yoon. "Additionally, the emergence of Gorilla Glass has placed GLW in a stronger position to deal with these challenges."
Interesting to note is that even though Corning is predicting a slow finish to 2011, its forecast is in fact partially responsible for GLW's recent recovery. According to Yoon, "The stock's surge over the past week strongly suggests that investors were expecting an even more disappointing near-term outlook." The news was apparently good enough for investors to ignore the fact that GLW was predicting 30% lower equity earnings in the third quarter.
Finally, and perhaps most importantly, the best reason for taking a look at GLW is its discount valuation. "Despite recent gains, the stock sells for just 7.5 times its consensus estimate of $1.84 per share for the current year," says Yoon. "Thus, it continues to represent a great buying opportunity."