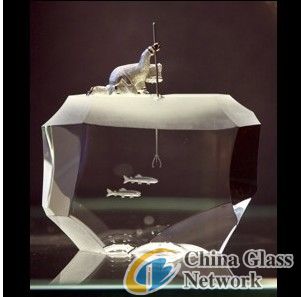 In a memorable Hollywood scene from "Risky Business," the 1983 comedy drama that launched Tom Cruise to stardom, a mother's prized Steuben glass egg goes missing from the mantelpiece only to reappear — imperceptibly nicked — in the nick of time.
Steuben Glass, an American icon of handcrafted crystal for over a century, looks now as if it's vanishing for good.
Its lone factory in Corning, a glassmaking company town flanked by Steuben County's tree-topped mountain ridges in southwestern New York, is shutting down Nov. 29, the week after Thanksgiving. With profitability elusive at the best of times, the prospects of reviving the 108-year-old vanity brand seem every bit as slim.
While the matchlessly transparent glass is still acclaimed as the lodestar of lead crystal, Steuben has struggled to find its footing in old age — never more so than since 2008 when glass pioneer Corning Inc. sold the ailing business to Schottenstein Stores Corp., a retail-chain operator in Columbus, Ohio.
Topping the list of critics' complaints: Uninspiring new designs, the addition of cheaper engraving methods and, for the first time in its history, a production shift overseas that squeezed the price of simpler ornaments and champagne glasses below an unheard-of $100 each.
"They totally lost their way," sniffed Jeff Purtell, a Steuben dealer in Portsmouth, N.H. "If your design department is pathetic, your costs are prohibitive, and your marketing — and vision for the future — is not successful, then you're doomed whether you're making Steuben glass or Twinkies."
A generation-long slide in demand for fine crystal accelerated abruptly when the financial crisis hit Wall Street in September 2008, just weeks after Schottenstein bought 80 percent of Steuben for an undisclosed price.
The operator of budget-friendly Value City Furniture and DWS shoe stores scrambled to appeal to more economically diverse markets — just as other hard-pressed crystal titans like Baccarat, Orrefors and Waterford Glass have done in Europe — but Steuben never turned a profit, said company spokesman Ron Sykes.
"The economy collapsed, so there wasn't great demand even from collectors," Sykes said. "We studied others that tiered their product and had some moderate success. Bottom line is, it did not work for us."
Most of the factory's 60 workers will be axed, and Steuben's flagship store in New York will close once its inventory is sold off, Sykes said. Corning, which is expected to rehire more than a dozen union employees, bought back the Steuben brand but held out little hope it might re-enter the crystal arena.
Since 1903, Steuben glass has been fashioned into everything from fruit bowls and decorative animal figurines to one-of-a-kind sculptures bestowed as official gifts of American presidents from Harry Truman to Bill Clinton. Art objects can cost tens of thousands of dollars, with classic pieces creeping into six figures.
"I often wondered why the last generation, maybe two, cut down on Steuben," mused collector Thomas Dimitroff. "The young folks don't want it. Same thing with silver. There's a different attitude. Every year we're getting further away from the Victorian love of clutter, quality or not."