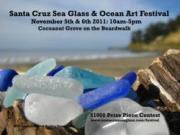 The Santa Cruz Sea Glass & Ocean Art festival is the only event of its kind, which combines sea glass and ocean art right alongside ocean conservation. More than $10,000 has been donated to ocean charity since 2009. With an expected attendance of over 3500 this year, 10% of each $3 admission will be donated to the National Marine Sanctuary Foundation.


The Santa Cruz Sea Glass & Ocean Art festival was created by artist, Krista Hammond in 2009. Hammond, being the owner of Santa Cruz Sea Glass; which has been partnered with the National Marine Sanctuary Foundation since 2008, wanted to create an event that celebrates ocean art while raising awareness and donations for ocean conservation.

The festivals first event was held at the Long Marine Lab, Seymour Science Center in Santa Cruz. 100% of the festival admission fees were donated by Hammond directly to the Center. Since the festival, new marine exhibits have been funded and enjoyed by many visitors to the Center. "It is a dream come true to create an event that supports local art and the local economy in such a positive way", says Hammond.

With a line that stretched down the street in 2009, Hammond decided a larger venue was needed in 2010 and approached the iconic Cocoanut Grove on the Santa Cruz Beach Boardwalk. The new venue was a hit with more than 3400 attendees in 2010.
The event was front page news in the local Santa Cruz Sentinel paper. With the Cocoanut Grove's floor to ceiling windows facing the ocean and a roof-top ceiling consisting of retractable sky-light, one feels they are at the beach while browsing amazing art, educational displays and a host of amenities including a full bar.

Boardwalk owner, Charles Canfield has been a large donator to the National Marine Sanctuary Foundations funding of the new Exploration Marine Science Center being built in Santa Cruz, right across the street from the Boardwalk. The Exploration Center is scheduled to be open to the public in the summer 2012 and will be the recipient of this year's festival donation.

With 35 unique sea glass and ocean artists displaying their creations, along with ocean conservation demonstrations, lectures, film screenings and a $1000 prize piece sea glass contest, this year's festival is one not to miss.