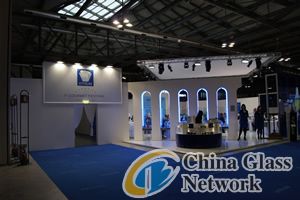 On behalf of you, dear reader, I felt obliged to explore the newest addition to the 17th biannual Vitrum taking place this week in Milan, Italy. That addition would be the Vitrum Gourmet Festival.
The makeshift restaurant is cordoned off from the sights if not the sounds of the machinery abutting it on the floor of Hall 22. Each day a different gourmet menu is presented to trade show visitors.
I wanted to take pictures of each plate, but that might have slowed down the part where I stuffed my face.
Like any good tourist, I've been doing my best to take in the highlights of the city while I'm here: ravioli, tortellini, spaghetti, gelato. This was none of the above. For example: the chestnut cream appetizer sported buffalo ricotta ice cream, chestnut chips and the occasional flower petal. I tried, as I ate, savoring the smoky, sweet taste of the dish, to draw some comparison to the events going on just outside the temporary wall of this fine dining experience. Distinctly Italian, boldly surpassing the usual fare, offering excellence and quality, striving for something exquisite that the diners didn't yet know they wanted.
On the other hand, I couldn't help but muse, the long lines I saw were at the bratwurst stand outside. Cost-effective and easily filling a need.
To get back to the booths, I've seen a mix of offerings here on the show floor. Some manufacturers are focusing on simple, cost-effective entry-level systems. As I've heard reports that fabricators looking to expand into a new area and simply want a cost-effective system are looking to auctions, not international trade shows, I can't help but think that the exhibitors here focusing on service have it right – the cheap option in the short-term may not be the cheapest option in the long-term, after you've factored in replacement parts and down production time.
Vitrum, where the exhibitors seem to take their time sitting and talking with existing customers as much as drawing in new customers, to me emphasizes that service is very much a focus here. I've also heard a number of machinery manufacturers repeat that their tweaks and introductions are a result of listening to customers, and that seems very much to be happening here at this event.
On another note, I wanted to mention my second foray into the Gourmet Festival (I promise not to list the menu again, although the hors d'oeuvres were as fascinating to me as they were delicious). Fenzi held a celebration in that venue last night in honor of its 70th anniversary.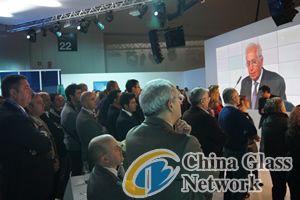 "70 years rush by very quickly," Dino Fenzi said in thanking his guests, "because you keep us busy everday, not only with your requests and your demands but also your trust and cooperation." He added, "We've been here 70 years because of you and we trust you to keep us alive for the next ones."
Although giving credit to customers for the anniversary, the customers with whom I spoke were quick to give full credit to the product range and, in one case, the approachability of the worldwide specialty chemical manufacturer.