A newly released document, Physical Security Criteria for Federal Facilities from the Interagency Security Committee (ISC), will affect the glass and glazing community, said Quincy Alexander, security engineer with Applied Research Associates in Vicksburg, Miss., during a presentation titled "Blast Design of Glazed Systems Utilizing the 2010 ISC Criteria," at Protective Glazing Council International's annual symposium. The symposium took place at the National Institute of Standards in Gaithersburg on October 26.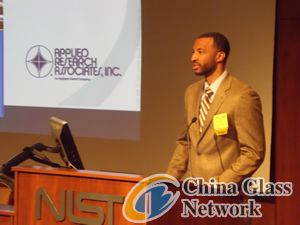 "There were over 20,000 bombings in the U.S. between 1986 and 2005," Alexander said. "[In light of that] the DHS [Department of Homeland Security]-based ISC released the Physical Security Criteria for Federal Facilities on April 12, 2010." The criteria "establishes a baseline set of physical security measures to be applied to all federal facilities and provides a framework for the customization of security measures to address unique risks at a facility. These baseline measures provide comprehensive solutions in all five areas of physical security, including site, structural, facility entrance, interior, security systems, and security operations and administration."
The application of the ISC criteria is dependent on the facility security level (FSL), Alexander said. In window design requirements, for FSL I, no blast considerations are required for glazed window systems. For FSL II, acceptable glazing systems include; thermally tempered glass; catchment systems; and thermally tempered, heat-strengthened or annealed glass with fragment retention film installed on interior surface (daylight, edge-to-edge or wet glazed). The acceptable fragment retention film physical properties include: yield strength of 12,000 psi; 3 percent elongation at yield; longitudinal tensile strength of 22,000 psi; traverse tensile strength of 25,000 psi; 90 percent longitudinal elongation at break; and 75 percent traverse elongation at break. "A 7 millimeter film thickness is adequate in most cases," he said.
For FSL III, preferred glazing systems include thermally tempered, heath-strengthened or annealed glass with fragment retention film installed on interior surface and attached to frame; and laminated thermally tempered, heat-strengthened or annealed glass, Alexander said. For FSL IV, consider the Design Basis Threat (DBT) at specified setback. Glazing must achieve a Performance Condition 3b or better. "If DBT at setback is yields blast pressure less than 1 psi, preferred/acceptable glazing treatments are adequate."
For FSL V, threat specific analysis is required, Alexander said, "glazing requirements are consistent with FSL IV."

These criteria requirements affect the film, glazing, window framing, design services and blast blinds/catcher systems, Alexander said.
Also at the symposium, Eric Cote, principal/president of Cote & D'Ambrosio in Wickford, R.I., shared the results of a "9-11 Opinion Survey" written by his company and Wallace & Washburn in Boston.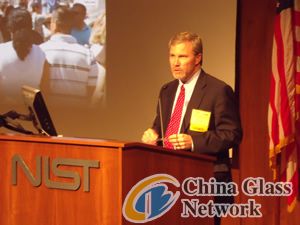 "Two versions of the survey were developed," Cote said. "The first version targeted public and private sector emergency managers, Homeland Security officials and public health professionals, while the second version targeted consumers."
The survey revealed that managers and pros feel that commercial building developers should provide for more/better building security, disaster planning and safety design, Cote said. A few of those surveyed said that "they need to design buildings to be more resilient," he said. "Too many building designs feature large amounts of glass for attractiveness rather than safety. Limit the height of future skyscrapers. Have a uniform building code for the newer buildings that are going up. Not build it so high and so full of glass. Use laminated glass."