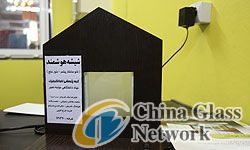 The Laminated Low-E glass, produced by Kaveh Glass Industrial Group, was nominated to receive the best product award in the First International Research and Development Awards of Iran in October 2011.
Among the effective properties of laminated Low-E glass to be nominated as the best product in the First International Research and Development Awards of Iran, mention can be made of the reduction in heat transfer in comparison with conventional insulated glass, reduction in environmental pollutants, and reasonable price in comparison with the non-nano products.

Low-E or low emissivity glasses act like transparent thermal insulations and they have much lower heat transfer comparing to normal glasses. Such glasses allow the visible part of the light spectrum to pass, but they prevent the passing of the thermal part, infrared waves, and harmful ultraviolet waves, and reflect them.

Taking into consideration the advantages of low emissivity glasses in decreasing the energy consumption, the technical certificate of such glasses has recently been extended by Building and Housing Research Institute. Being issued in February 2009, the certificate will be valid until the end of April 2012.

Kaveh Glass Industrial Group started its activities in the field of nanotechnology in 2005, and it presented its first nanotechnology-based product under the title of reflective glasses to the market in the same year.