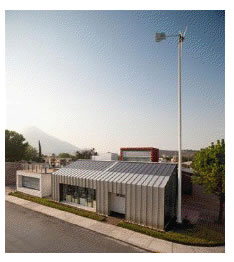 PPG Industries (NYSE:PPG) glass, paint and coatings were used in the headquarters building of Bioconstruccion y Energìa Alternativa, Monterrey, Mexico, the first building in Latin America to earn Leadership in Energy and Environmental Design (LEED) Platinum certification for New Construction, Version 2.2 (LEED-NC 2.2) from the U.S. Green Building Council.

The 5,000-square-foot office building, which is located in suburban San Pedro Garza Garcia, is constructed with SOLARBAN(R) 70XL and Solarban 60 glasses and STARPHIRE(R) ultra-clear glass. PPG PITTSBURGH PAINTS(R) brand SPEEDHIDE(R) paint was specified for the interior and exterior walls of the building, while PITT-TECH(R) DTM industrial enamels were used to coat its metal beams and structures.

Solarban solar control, low-e glasses combine high levels of visible light transmittance with exceptional solar control characteristics to help reduce cooling- and lighting-related energy costs in buildings. Starphire glass is the architectural industry's clearest, most transparent glass. PPG is the first and only architectural glass manufacturer to earn CRADLE TO CRADLE(R) Certification for all its products.

For interior use, Speedhide paint delivers exceptional coverage and hiding characteristics. For exterior applications, it can be applied to a variety of surfaces with good flow, good leveling and low-temperature cures. Pitt-Tech DTM industrial enamels, developed for direct-to-metal application, provide excellent corrosion protection as well as chemical and impact resistance in light to moderate industrial applications. Both coatings are formulated with low volatile organic compound (VOC) content, which enables them to meet the building industry's strictest environmental guidelines.

Bioconstruccion y Energìa Alternativa is a leading company in the development and certification of green buildings in Mexico and throughout Latin America. The company's owner, Cesar Ulises Trevino, is president of the Mexico Green Building Council.
PPG: BRINGING INNOVATION TO THE SURFACE.(TM)

PPG Industries' vision is to continue to be the world's leading coatings and specialty products company. Through leadership in innovation, sustainability and color, PPG helps customers in industrial, transportation, consumer products, and construction markets and aftermarkets to enhance more surfaces in more ways than does any other company. Founded in 1883, PPG has global headquarters in Pittsburgh and operates in more than 60 countries around the world. Sales in 2010 were $13.4 billion. PPG shares are traded on the New York Stock Exchange (symbol: PPG).