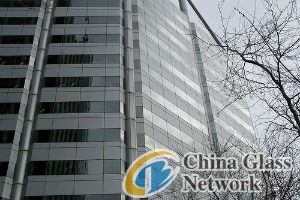 A TYPE of glass able to produce electricity from the sun's rays as well as reduce a building's cooling and lighting costs is being developed and commercialised by a Perth company along with researchers from Edith Cowan University.
The technology involves a film as thin as a human hair, sandwiched between two sheets of glass.

Tropiglas Technologies founder Victor Rosenberg says the technology has the ability to "selectively remove the UV and infrared radiation and allow the natural light to pass through."
"It allows more than 80 per cent of natural light to pass through whilst blocking more than 95 per cent of the infrared and the thermal energy which is actually heat," he says.
Mr Rosenberg says the infrared light is then passed to the edge of the glass and picked up by a photovoltaic cell which converts it to electricity.
"Currently, we are producing 50 watts per square metre which is unique for a piece of glass that is crystal clear," he says.
Explaining his company's technology at the recent Univation 2011 conference, Mr Rosenberg said the world demand for glass is huge with more than four billion square metres expected to be produced in 2013.
He says Tropiglas is looking to target the market for energy efficient glass used in buildings such as skyscrapers and was aiming for a five per cent share of that sector by 2018.
Mr Rosenberg says the new glass could reduce air conditioning and lighting costs as well as produce extra electricity.
The company has already produced a 20cm by 20cm prototype and Mr Rosenberg told the Univation audience that Tropiglas was seeking $1.5 million of staged investment to meet its commercial and technical milestones.
"We're hoping by next April we can upscale to produce a one square metre [pane] because that's where we need to get to," Mr Rosenberg said at the conference.
The innovative photovoltaic glass might also end up on the streets as well as on the sides of buildings.
He says there is a big demand for glass in the automobile industry, especially given the trend for cars with bigger windows and the fact that vehicles have to use large amounts of fuel simply to cool their interiors.
"We would like to be a major player there as well," he says.
Earlier this year, Edith Cowan University announced it had secured funding of $300,000 to help Tropiglas research, develop and test the glass.
The work is being undertaken by Professor Kamal Alameh and his team at the Electron Science Research Institute at ECU.