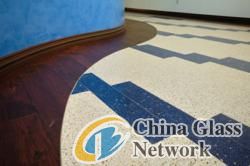 Texas-based GLASS RECYCLED – a manufacturer of environmentally-friendly products that serve the construction and interior design industry – is now offering an alternative to traditional terrazzo flooring that is eco-friendly, available in limitless color choices and adds much-desired points to LEED certified projects.
Due to a number of advantages – including beauty, durability and ease of installation - terrazzo made by GLASS RECYCLED is growing in popularity as a sustainable floor, counter top, and interior wall finishes.
Traditional terrazzo is a hard surface made from small pieces of marble aggregate mixed with a wet binder that is cured and polished to a smooth finish. Major mixing and pouring equipment is needed to install the product, then after a curing period of five to six days, electric grinding equipment is used on the terrazzo surface to achieve a high polish.
GlassPLANK terrazzo is manufactured at the firm's production facility then delivered and installed as easy as traditional flooring options. It is produced in varying thicknesses, with a number of standard and custom sizes available. As efficient as it is beautiful, it can be installed with a seam as small as 1/64", and requires no onsite grinding, polishing or sealing. Made from recycled glass and epoxy, this fabulous 'new breakthrough' alternative is being used in office building, hospitals, schools, restaurants and a number of other commercial and residential applications.
Since GLASS RECYCLED applications are non-porous, there is no need to seal the floors, countertops and walls, boosting cost efficiency, sustainability and friction. Aesthetically, glass brings sparkle, translucence, depth, and bright, highly consistent colors to all epoxy terrazzo applications. Also, traditional cement terrazzo's compressive strength ranges from 4,800 to 7,000 psi and marble terrazzo has a compressive strength of 12,000 psi .GLASS RECYCLED terrazzo will equal or exceed that number since glass is harder than marble.
Offering the beauty and durability of granite or marble, GLASS RECYCLED's patented process brings the added benefit of nearly limitless color combinations. Whereas granite users may only select from what nature provides and is currently being mined, each piece of GLASS RECYCLED is custom formulated and manufactured from the customers' specific design input. Recycled glass itself – including mirror and porcelain finishes – comes in hundreds of colors; and when blended with epoxy to match exact paint color choices, the final combined color choices are truly unlimited.
To help this process, the company has just unveiled a new showcase on it's website where designers can actually view color choices of glass and epoxy colors and create their own custom design – which is then created at GLASS RECYCLED's manufacturing plant and shipped to the designer.
In addition to their flooring terrazzo product, GLASSRECYCLED also has a number of other product lines. GlassSLAB is used for bath and kitchen countertops, GlassDECOR can be transformed into uniquely designed interior products such as table tops, glass panels, ceiling tiles and other imaginable applications and GlassSCAPE is loose, bagged recycled glass and porcelain aggregate product that can be used as a permanent and beautiful alternative to groundcover, mulch or used in fountain and aquariums.