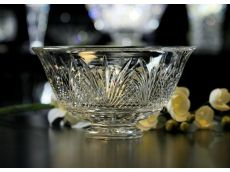 Waterford Crystal is making Christmas shopping simple for the person who has everything.
Waterford Ambassador Gerard Treacy will add his signature to the limited edition Ambassador bowls Dec. 8 at the Waterford Wedgwood store at Silver Sands.
"I sign my name and the year on the piece. It adds value, and makes it extra special, as well," said Treacy.
The piece to be signed this year is a 10-inch cut crystal bowl.
Just 500 Ambassador pieces are crafted each year for the eight Waterford Ambassadors to sign at in-store events.
"When the pieces are gone, Waterford does not make any more," said Treacy.
"They are crafted to celebrate the annual Ambassadors' trips to the states," said Treacy, who will be making his fifth trip to the area.
Treacy has mastered his craft as glass blower in a 32-year career at Waterford Crystal. He has worked on the entire range of Waterford crystal pieces, which include vases, wine glasses and champagne flutes.
"I am a second-generation Waterford artisan," said Treacy, who grew up a 10-minute walk from the Waterford, Ireland, crystal factory. "My father was a master crystal cutter for 45 years."
Naturally, Treacy followed in his father's footsteps, and at 15 started working with Waterford as an apprentice.
"The company built the houses on my street, so all of my friends and I worked at the factory when we were old enough,"
After his five-year apprenticeship, he spent three years earning the title of master glass blower.
Treacy will be at the Silver Sands Waterford Wedgwood store Thursday, Dec. 8, from noon to 4 p.m., to autograph customers' Ambassador bowls.
But, for those who want to personalize gifts, "I can sign anything that is made of crystal," he said.
If a couple is getting married, Treacy can add the names of the bride and groom — along with the date — to crystal champagne flutes. Treacy can help parents commemorate a newborn's christening by adding the child's name and the date and church of the baptism to a crystal cross. For the person who has everything, including fine taste, Treacy can make a Waterford crystal bowl into a one-of-a-kind personalized gift.
For those who cannot be present, but would like to purchase a signed 2011 Ambassador bowl, Waterford Crystal at Silver Sands can send the signed items via insured UPS.
The Waterford stamp has long been an indicator of high-quality crystal, but the store at Silver Sands also carries fine china plates, glasses and accessories, brightly colored glass vases, and beautiful chandeliers.