Council introduced strict new rules for solar installations last night in a bid to restrict renewable energy projects from encroaching on farmland and residential neighborhoods.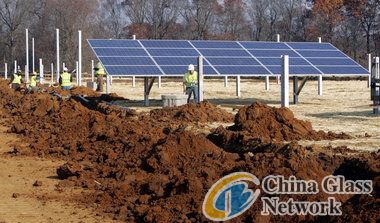 The lengthy ordinance introduced by council sets several new hurdles for companies and organizations looking to hitch on to New Jersey's solar boom and represents the latest local attempt to curb the spread of solar.
"We're making clear with this ordinance that solar is a permitted use in industrial zones, on rooftops, in some commercial zones, but it's not a permitted use in residential areas," said township business administrator John Ricci.
The state has deemed solar projects "inherently beneficial," a land use designation that makes it easier for solar developments to earn approvals from local entities like zoning and planning boards.
But several town officials have expressed growing dissatisfaction with the seemingly unchecked growth of the state's solar industry — New Jersey now ranks second in the country for solar installations.
"The state has made it easy for them to do this, and now we need to rein it in a little," said Council President Dennis Pone.
Township officials said even though the state has declared solar inherently beneficial — presumably giving developers of solar an advantage over local resistance — it hasn't said towns can't set their own standards or rules.
As developers increasingly buy or lease large swaths of land for large-scale, so-called "solar farms," town leaders, including Hamilton Mayor John Bencivengo, have expressed concern about ceding farmland to utility companies or solar providers. Bencivengo and a handful of other officials, including East Windsor Mayor Janice Mironov, Robbinsville Mayor Dave Fried and Plainsboro Mayor Peter Cantu, recently wrote an editorial calling for tighter controls on solar projects and opposing the trend of covering farm fields with thousands of solar arrays.
The ordinance, which was only introduced, not adopted, seeks to steer solar installations away from residential neighborhoods and Hamilton's few rural pockets toward the township's industrial and manufacturing zones and the rooftops of businesses and other buildings.
Solar installations approved at the local level would also be subject to certain setback, height and buffering requirements, according to the proposed township rules.
Ground-mounted solar arrays would be capped at 12 feet high and would have to be shielded by a 20-foot planting area, complete with a berm made up of a mixture of trees and shrubs that would help hide installations from public roads and nearby neighborhoods.
PSE&G's solar farm on South Broad Street, land that was once farmed, has in particular garnered complaints from neighbors tired of looking at piles of dirt and glass and steel panels from their properties.
Another solar farm has been approved for 63.5-acres off Yardville-Allentown Road, an application has been filed for a solar generating facility on Crosswicks-Hamilton Square Road and more solar projects are in the pipeline, Ricci said, making it imperative that council act soon.
The ordinance would also require developers to submit decommissioning plans for projects and would allow the township to declare building sites abandoned if they're inactive for 18 months straight.
The ordinance will now head to the planning board for review and recommendations. A public hearing is expected to be held at council's next meeting on Dec. 20.
Hamilton is the latest municipality to tackle solar issues.
In June, the East Windsor council passed a resolution affirming its support for open space and farmland preservation, and opined that solar projects were best left to industrial sites, brownfields and rooftop installations.