The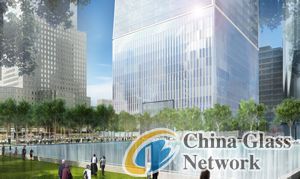 "The nature of the new design of the pedestal is to maintain in David Child's intention," Lewis says. Childs designed the
Behind the glass is a series of horizontal stainless steel slats that are offset from each other, and behind that are perforated metal panels to allow the wall to ventilate the mechanical systems located on the lower levels of the building. The stainless steel wall has hidden LED lights to give it a luminous glow at night, Lewis says. The wall has a stone base that creates continuity between the plaza and the wall. "The steel behind the glass is meant to recall the steel that marks the edge at the eight faces of the tower," he says.
It took the design team of six architects working with construction manager Tishman Construction, specialty wall and curtainwall fabricator APG International in Glassboro, N.J., and the Port Authority of New York and New Jersey 3-4 months to design the new pedestal. Part of that time frame was to explore the prismatic glass of the original design, Lewis says.

"We were working with Benson [Industries] to help us go through sampling, panelizing the system and answering questions about the glass, but their role ended when they wanted to bid on the project," Lewis says. "Then we started working with APG." APG built the mockup and worked with SOM on engineering.
The fins were rigorously tested in desktop and in the shop, Lewis says. As part of the specification the fins will go through scaled aeroelastic modeling and wind tunnel testing to verify their dynamic behavior. Further testing of the whole system will be done by Permasteelisa, which is