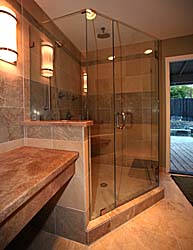 The East Bay shower door installation experts at Wilson Glass recently launched an easy-to-follow frameless shower door installation tutorial video, helping home-owners and contractors alike install frameless shower doors without a hitch. This 8-minute YouTube video walks viewers through each step of the partition tub installation. Enhanced with close-up visuals, commentary text and up-beat music, this how-to video aims to help residential handymen both near and far.
Whether homeowners are embarking on a new home remodeling project or replacing an old shower door, this informative video is a helpful resource. Equipped with over 50 years of experience, Wilson Glass has built and installed countless glass countertops and shower doors for a wide range of clientele. Owners David and Aric Wilson strive to utilize their wealth of knowledge to ease the worries that often accompany do-it-yourself home projects.
"Our team consistently receives great feedback on our shower door installations. With over 50 years of success behind us, we want to help our community in every little way we can," says Aric Wilson. "Our instructional video provides all the basic information with great visual examples to help frameless shower door installations run smoothly."
About Wilson Glass
Wilson Glass is a glass company specializing in shower doors, storefront glass and glass railings and bathroom remodeling in the East Bay. They also provide custom glasswork for shower doors and other projects requiring glass. Wilson Glass ships orders across the country, but also serves customers from their Berkeley glass shop.
Wilson Glass serves the San Francisco Bay Area communities of Alameda, Antioch, Berkeley, Castro Valley, Concord, Daly City, Dublin, Emeryville, Fairfield, Fremont, Hayward, Livermore, Marin, Martinez, Mill Valley, Napa, Novato, Oakland, Palo Alto, Pleasanton, Redwood City, Richmond, San Bruno, San Francisco, San Mateo, San Rafael, San Ramon, Sonoma County, Solano County, Vacaville, Vallejo, and Walnut Creek.