On the morning of 8th,Dec,2011,a three-day "the Ninth India International Glass Industry Exhibition"hold in Bombay, the booth of Zhengzhou Yuke Glass technology co.,ltd.-G1c was filled with crowds soon.YK new type glass frosting powder attracted a lot of oversea customers for its high quality,lower cost and environmental protection.
Yuke showed not only four series of glass frosting powder effect for glass containers,flat glass,glass lamps and glass crafts,but also the latest effect---gradual changed effect,anti-glare glass for LCD screen and oil-sand anti-fingerprint effect. These new effect attracted lots of overseas clients to visit and consult as soon as they appeared on the booth.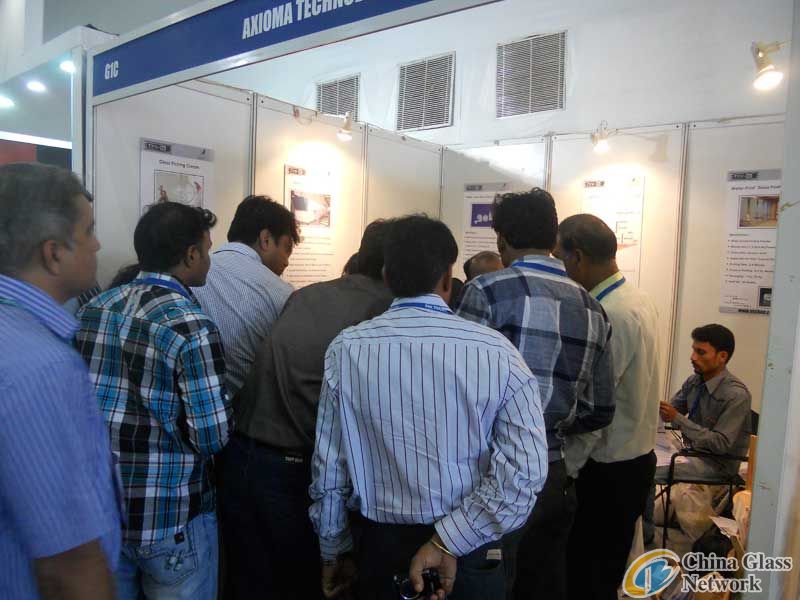 The visitors showed active interest on the new effect and consulted the frosting process and scope carefully.
YK new type environmental water based glass frosting powder also was a major concern on this exhibition, it is warmly welcomed among the customers for the environmental protection and convenient process,u just need to add water into the powder in production.
Yuke hold the humble attitude to learn from foreign advanced production technology, but also expressed Yuke's love to the people around the world, refused to hydrofluoric acid for creating a safe and comfortable living environment for the people around the world. Yuke has been working hard at it!