The beleaguered construction sector got some positive news this week when the Commerce Department reported that November construction spending totaled $807 million, the highest level since June 2010. But plenty of uncertainty remains for the industry.
Construction spending for private single-family and multi-family housing, which rose for the fourth month in a row in November, is running at a seasonally adjusted annual rate that's about only 40 percent of the peak rate in 2006.
And many privately held companies in construction-related industries are facing payment delays compared with last year, according to a financial statement analysis by Sageworks. Industry leaders also worry about the future impact of cutbacks to public construction spending and construction materials costs that have been outstripping building bid prices.
The Commerce Department's figures, released Tuesday, show total construction spending in the U.S. rose 1.2 percent from October and 0.5 percent from November 2010. The biggest monthly increases came in private single-family and multi-family housing categories, and in public office, health care and power construction projects.
But private construction spending on commercial projects fell for the fourth month in a row, and spending on manufacturing construction declined for a third month. On a year-to-year basis, those two categories have had the highest growth rates.
A recent survey by the Construction Financial Management Associationfound that high materials prices and an ongoing lack of demand for services remain the principal concerns among chief financial officers in the industry. Indeed, the amount contractors pay for a range of key construction materials in November was 6.2 percent higher than a year earlier and outstripped increases in contractors' bid prices for finished buildings, the Associated General Contractors of America said a few weeks ago.
Ken Simonson, the AGC's chief economist, said he expects prices for essential construction materials will increase in the next few weeks, even though price increases moderated or even reversed direction in November. Meanwhile, cuts and delays in federal spending on infrastructure projects could leave contractors in tough shape, the group says.
"Several segments of construction appear to be climbing out of a hole," Simonson said in a press release Tuesday. "The new year should reinforce recent year-over-year gains in apartment, power, manufacturing and private transportation construction. But November's upturns in single-family homebuilding and public construction may not be sustainable."
Sageworks' analysis of financial statements for construction-related companies found that payments on accounts receivable have slowed, with some sub-contractors waiting on average 11 weeks to collect payment.
Overall, accounts receivable days for the residential building construction industry (NAICS code 2361) were an average of 21.6 days in 2011, compared with 15.8 days in 2010, Sageworks found. For non-residential construction (NAICS 2362), average AR days totaled 61.6, compared with 56 in 2010.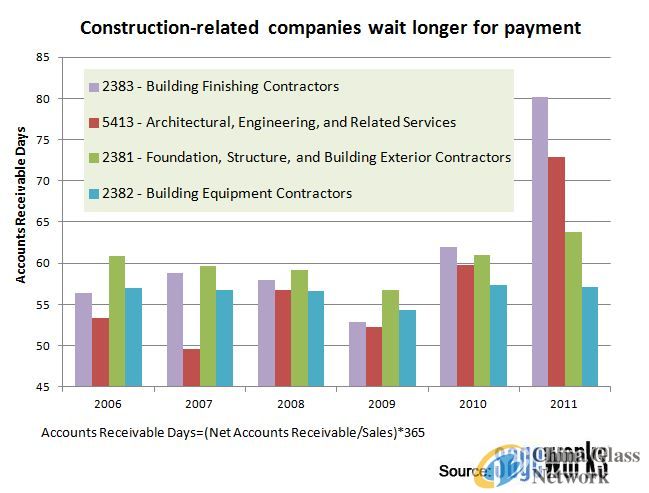 Accounts receivable days is a standard measure of the average number of days a company takes to collect payment on goods or services it sold. It represents a company's receivables (after allowances for doubtful accounts) divided by sales, then multiplied by 365. The bigger the number, the longer it's taking for companies to get paid, on average.
Sageworks found that some types of businesses that are typically involved in the earliest stages of projects, such as architectural design and foundation work, have fairly steady AR days compared with 2010. But contractors finishing up the work – those who do drywall, insulation, flooring and painting — have seen their AR days stretched.
Sageworks, a financial information company, collects and analyzes data on the performance of privately held companies and provides financial forecasting software.