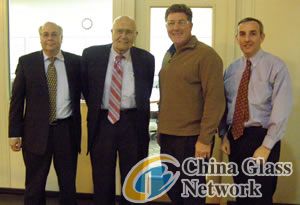 U.S. Rep. John D. Dingell (D-Mich.) traveled to Carleton, Mich., to tour Auburn Hills, Mich.-based Guardian Industries' float glass plant on January 4. The plant is the company's first float operation and has two lines.
"[Dingell] was interested in the overall status of manufacturing and research and development (R&D) in his home state," says Earnest Thompson, director of corporate marketing and brand management. "He had visited once many years ago, so was very interested in the manufacturing process and the wide variety of application areas for glass products.
"[We plan] to continue providing him and his staff information about energy-efficient glass and its applications in autos, homes and offices, as well as innovations that carry potential for the automotive industry," Thompson says. "These are areas of ongoing dialogue in Congress and, as a leader, he wants to ensure he's at the forefront of such issues."
The Carleton plant was established in 1970 and in 1990, the company's R&D center, the Science & Technology Center (STC), was established across the street, Thompson says. "Such a campus is unique and provided the Congressman with an update on manufacturing issues, innovation developments and the state-of-the-art in the glass business."
Plant manager Gerry Hook drove the Congressman all over the plant. "I took him around from soup to nuts," Hool says. "Showed him the entire float process. We drove around in a cart and talked with people along the way. He's a quick study, of course, asked excellent questions about our issues, challenges and plans for the future. Above all, he said that he's 'behind (us) all the way'."
The Congressman and his two staff members saw both float lines; one was running energy-efficient architectural glass and the other glass for automotive applications, Thompson says. "The Congressman saw the coater, our other processing and shipping departments, etc.," Thompson says. "He got a total taste of the entire operation and learned about the segments we serve, from automotive to commercial to residential to electronic and interiors."
Guardian officials and Dingnell discussed automotive issues; glass technologies, such as laminating and tempering and the differences and advantages of each; and energy efficiency. "He was very interested in the current state of the art when it comes to commercial and residential glass in this regard, manufacturing and R&D issues ... people and their growth and training," Thompson says. "But overall, he really used the visit as a chance to further acquaint himself with the people and companies and industries that he represents in Washington."