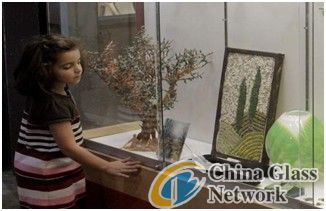 There are a few weeks left for students in Chemung, Schuyler and Steuben counties to apply for an afterschool opportunity this spring at the Corning Museum of Glass.
The museum is accepting applications through Jan. 31 from eighth- through 12th-grade students for its junior curator program.
As many as 15 students can be selected to participate in the program, which runs Thursday afternoons from March to June, said Bonnie Wright, gallery educator at the museum.
"They meet with me, and they learn all about glass and how the museum works," Wright said.
The junior curators also make their own exhibit, which is displayed for the rest of the year.
This year's youth-curated exhibit is entitled "Collision! Nature Meets Industry."
Emily Tifft, 18, of Elmira, who is now a senior explainer at the museum, became a junior curator four years ago when she attended Notre Dame High School. She heard about the program from a friend.
"Once you get involved with it, you really can't stop," Tifft said. "It's a great program."
Tifft went in knowing virtually nothing about art history or glass, but found a welcoming environment.
"It gives you a great foundation for learning about glass, and you meet a lot of great friends," she said.
Many people who get involved as junior curators go on to become explainers, said Tifft, who also volunteered at the museum. Explainers are museum employees who tell visitors about important glass concepts in the summer.
"I've done it for a long time, and you just like the museum so much that you stay there," she said.