A decade ago when glass artist Stephen Hodder decided to create a figurative self-portrait of some kind, he asked his family what animal he brought to mind.
One son suggested a lion, but Stephen's wife, Connie, had a more intriguing idea that led to the perhaps most popular art of his 37-year career, a series called The Wedding of the Cranes.
"She said I would be a stork — which is the same as a crane — because they are such good parents," said Hodder, noting that cranes are monogamous, stay together forever, and are so devoted that they'll rip the fleece out of their own chests to feather the kids' nests. "I decided to do a series of pieces that celebrates my relationship with my wife," said Hodder, whose admiration for both cranes and Connie shows through in the nine-piece set.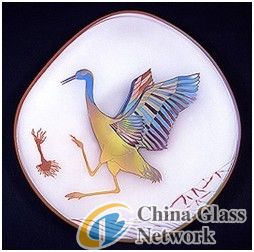 This piece is part of Hodder's crane collection.
A Princeton resident who recently retired from his longtime profession, Hodder, 60, is one of the Elk River Area Arts Alliance members displaying work Jan. 4 through Feb. 4. His entrants include several bowls and goblets.
Hodder operated Spencer Brook Studio, where he created glass-blown art and held workshops, in Princeton until just after Christmas. He's in up to 20 museums around the country and figures he's created around 300 pieces in six separate series of work. All are owned by collectors or museums, except about 25 he kept.
Hodder ceased his career as a gallery artist in 2007 and the closing of his shop makes retirement official.
"A week ago Wednesday I walked out of the glass studio for the last time," said Hodder, explaining that both his body and his shop have taken some hits in recent years. Various maladies have caused him considerable pain and fatigue during the month-long gear-ups for the open house events that are one of the staples of his trade. Plus, the furnace at the glass-blowing studio had burned through to the refractory and it was "only a matter of time" before the molten glass broke through to the floor.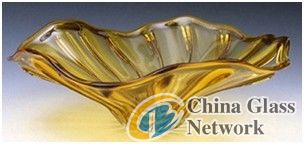 A golden bowl by Stephen Hodder.
"I'm not done with art yet, though," he said. "I will move on to something else. I am not done with open houses, either. I have a ton of inventory."
The inventory includes many sets of goblets of which he is particularly proud because he invented a unique stem (see photos) that's proven popular. He can't make them anymore, so they're now a limited edition, and he's raised the price from $110 to $145 per pair.
About his health, Hodder muses, "I was born with a body to be a librarian, I'm sure of that." Instead he worked in a tile factory as a youth, lifting 22-pound sacks a couple thousand times a day, and his nearly four decades as a glass blower included many 12- to 14-hour days bent over a blown glass plate drawing the picdture in tape that he would later carve wit ha sandblastere. So he's dealing with a bulging disc in his high back, along with an auto immune disorder, psoriatic arthritis.
Growing up in Pennsylvania, Hodder went to work at age 11 delivering newspapers and moved on to golf course chores like lugging carts, finding golf balls and delivering lemonade. "My family was poor, and I wasn't going to be poor," said Hodder. "I didn't feel bad about retiring at 57. After all, I started working 10 years early."
Physics was Hodder's first goal, but after 2.5 years at a community college he switched to art, thinking it would better lead him to awareness of what life was all about. He studied glass blowing and weaving at Tyler School of Art at Temple University, and glass blowing three more years at the University of Minnesota. That was 9.5 straight years in classrooms, and he didn't regret a minute.
"In fact, if I won the lottery, the first thing I'd do is look for a Ph.D program," he said. "I like to always be on a steep learning curve."
His most productive years were the '80s and early '90s after which he cut back. The gallery business changed, he said, and not for the better. Earlier in his career, art work was purchased by "old money" customers who knew their stuff, and their preferences set the style. Gradually taking over were big-time dealers who hand-pick what's hot and what's not, and the customers were new-money types who lacked intimate knowledge of art, he said. "I had a lot better connection before," he said. The pressure fueled an alcohol problem, too. "I needed it for anesthesia," said Hodder, adding he's been sober since 1990.
He balked at dealers' requests to increase from 20 pieces a year to around 150, knowing he'd have to hire staff and not be as hands-on as he wanted. "I was sick and tired of working for rich people, and wanted to work for people more like me," said Hodder. Now he deals mainly with two small, intimate groups, the ERAAA and Bluffs Country Arts based in Spring Grove.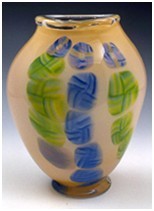 A vase by Stephen Hodder.
Hodder also frequently has strummed guitar background music at Alliance events and once played in a four-man jazz band. In retirement, he wants to learn more about jazz, and to explore audio as another art form, layering and recording the sounds of the environment mixed with guitar music.
Stephen and wife, Connie, a social worker, have two sons. Stephen cares full time for Mark, 25, who has Down syndrome. Stephen was a Special Olympics coach many years. David, 21, is attending Wisconsin-River Falls studying glass art and saxophone.
"David has finally taught me the RIGHT way to blow glass," chuckles Hodder, adding that back when he got started, you learned on the fly. Another nice thing about having a son after his own heart: David has taken all his dad's colored glass, best pipe and hand tools with him to college, where the equipment will continue to produce glass art.