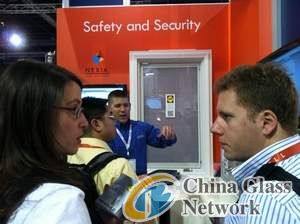 Pella Corp., Iowa's largest window and door manufacturer, made an appearance for the first time ever at the national Consumer Electronics Show in Las Vegas this week to promote a new type of smart-window technology.
CES is typically a showcase for new electronic gadgets such as 3-D televisions or platforms for electronic games, but this year's show, which ended Friday, also featured smart-home technology.
Pella's contribution consisted of windows with shades and blinds controlled by SmartSync, a new system that allows them to be opened and closed remotely by a smartphone or other Internet-connected device, said spokeswoman Kathy Krafka-Harkema.
Pella's high-tech window was part of the launch of a new smart-home system called Nexia Home Intelligence by Schlage, a maker of home security systems.
The Nexia system will allow homeowners to remotely control a range of products, including window blinds, door locks, heating and cooling systems, and security cameras, for as little as $99 a year, said Krafka-Harkema.
"There was great response" to the new technology, Krafka-Harkema said. "We had people lined up in our booth to see the demonstration."
Unlike earlier versions of smart-building technology, the Nexia system can operate with wireless connections to the products it controls, she said.
Pella will promote the energy conservation and privacy aspects of its smart windows, she said.
The system allows people to "quickly and conveniently adjust blinds or shades to control light, privacy and help save energy in a home or basement," said Polly Tousey, a Pella program manager.
The Nexia technology will be available for purchase this year.
Separately, Pella will also be marketing its SmartSync windows this year at Lowe's home improvement stores.