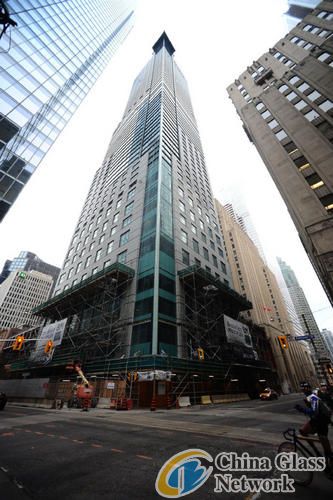 Never have so few spent so much on so little. Toronto's Trump Tower doesn't open officially until March, but already it's an architectural disappointment of sky-high proportions.
Crammed onto the southeast corner of Bay and Adelaide, on a site too small to accommodate such soaring ambition, the 60-storey building manages the rare feat of being proletarian and precious in equal measure. While it's clear no expense has been spared, one can help but wonder: For what?
Despite the marble, the frequent decorative flourishes, and the sheer scale of the place, the results are curiously ordinary.
The Trump International Hotel and Tower, which actually opened for business Tuesday, offers further proof, if any were needed, that extravagance isn't the same as excellence. Designed by the Zeidler Partnership, this building is a sow's ear and a silk purse wrapped in one.
The trouble begins at street level, where the building presents little more than a set of vehicular entrances. The front door, which seems an afterthought, faces Adelaide, but from within the larger opening that forms the passenger drop-off. The more-important Bay Street façade comprises a row of windows and a service entrance. Such a minimal street presence speaks of a project that might be a bit too inwardly focused for its own good. It is, after all, part of a larger whole, namely the city.
It's uncomfortably reminiscent of another local instance of hospitality architecture gone wrong, the unfortunate Harbour Castle Westin on Queens Quay, a hotel without a visible front door.
The Trump, condo tower as well as a hotel, seems every bit as unaware of its surroundings. For a building that wants to become part of life in Toronto, it seems strangely indifferent to the city. Indeed, it feels like a visitor from another place, not quite at home in the gray-and-glass highrise canyons of the Financial District.
Inside, all is glitz, slickness and conspicuous consumption. The best that can be said is that everything is meant to look expensive, and probably is. Such unabashed ostentation, of course, would have offended Torontonians of earlier generations, but perhaps it's part of our new multiculturalism and we should rejoice that a pair of Russian entrepreneurs, aided and abetted by the Donald, chose this city for their project.
Toronto has many examples of failed architecture, but typically the reasons have more to do with cheaping out than blowing the wad. South of the NY Towers, that quartet of condo banalities on Bayview, this sort of kitsch is hard to find.
Though the façade, finished in stone (granite) and glass (green), couldn't be more conventional, the spire at the top of the 277-metre structure reveals something entirely different. Few will bother to look up, but this is where Trump Tower finally comes into its own. No flat roof here, but a large pointy element that speaks volumes about the desire to reach ever higher.
In some buildings, this yearning can take on a spiritual dimension; it can illustrate a need to come ever close to heaven, even to God. In Trump's case, it expresses no such aspiration, only a need to impress, which, having been acknowledged, falls flat.
Just as a gentleman can never be seen to be working, architecture must avoid the appearance of trying to be cool. Nothing is less so. Trump Tower tries too hard, and at the same time, not hard enough.
Compared with the new office towers nearby — Telus, PwC, RBC/Dexia — all of them models of restraint and effortless elegance, this Trump does not take the pot.