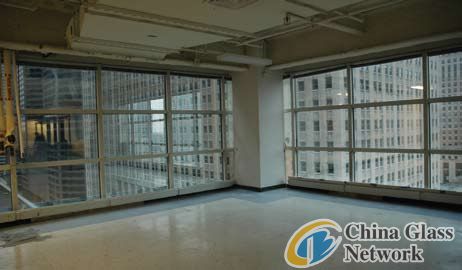 The 101 North Wacker Drive Building is a 23-story commercial building located in the Chicago central business district. Completed in 1981, it is clad in a simple stick-built curtain wall system manufactured by
Curtainwall Services Inc., Elmhurst, Ill., received an inquiry from representatives of Hines, the Houston-based global real estate company, asking if the interior drywall finishes could be
removed, and the monolithic spandrel glass panel replaced with matching

insulating glass units, thereby converting this somewhat dated interior to true floor-to-ceiling glazing. A cursory review of the shop drawings confirmed the constructability of the proposed initiative.
Initially, ownership selected a vacant space on the 11th floor, in the southwest corner, to perform a two-bay mockup of the proposed retrofit. In the end, Curtainwall Services Inc. was retained to perform a complete turnkey design build package. The ultimate scope of work included the removal and replacement of 2,662 spandrel units and the installation of new IG units and gaskets.

team select the two types of replacement glass required to complete this makeover.
Viracon's reflective coated glass, VA1-13 insulating glass HS/FT, was used on the south and west elevations. Its tinted low-E glass, VE-85 insulating glass HS/FT, was used on the east and north elevations.
More than 80 percent of this work was performed at night in occupied offices. Each night, one column bay (or six units) was dismantled and re-glazed, and custom designed brake formed and painted metal sill closures were installed. "Without a doubt, the single greatest challenge—throughout the nearly 22 months of continuous activity in winter, summer, rain and snow—was that the bay that had been scheduled that night had to be completed and returned to full functionality by 7 a.m. the next morning," says James Whaley, vice president and general manager for Curtainwall Services.