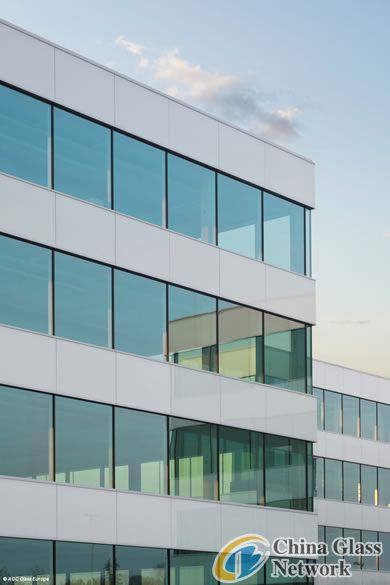 AGC Glass Europe is innovating with its first ever triple silver coating, thus creating a new generation of glass. Launched in October 2011, Stopray Ultravision 50 is a high-selectivity glass offering the perfect combination of natural light, solar control and thermal insulation.
Stopray Ultravision 50 features a revolutionary, vacuum-applied triple silver coating, delivering superb performance:

Light transmission (49%): meets the most demanding requirements for construction in the tertiary sector; Solar control: provides a very low solar factor (23%), significantly reducing air conditioning costs; Selectivity (ratio of light transmission to solar factor): extremely efficient (above 2) for enhanced comfort; High thermal insulation (1.0 W/ (m2.K)): boosts energy savings; Unparalleled aesthetics: Stopray Ultravision 50 is always produced on AGC's extra-clear Planibel Clearvision to ensure an attractive, neutral appearance. Stopray Ultravision 50 is the perfect investment. It reduces lighting and air conditioning costs so you benefit from the best of what the sun has to offer!

Stopray Ultravision 50 must be used in double glazing. Different versions are available, delivering multiple properties: - Stratobel Stopray Ultravision 50, the laminated safety version; - Stratophone Stopray Ultravision 50, the acoustic laminated safety version for enhanced acoustic insulation.

A 'green' certified product

Stopray Ultravision 50 has been awarded the Cradle to Cradle certificate. This rigorous programme assesses the overall sustainability of the products, i.e. over their entire lifecycle. This certification guarantees that Stopray Ultravision 50 was produced by using materials and products that are safe for human health and the environment. Its production process was designed in order to maximize the use of renewable energy while minimizing carbon and water footprint. The product was devised to be recycled at the end of its lifetime. It is integrated in AGC Glass Europe's strategy for social responsibility.

More information about the Cradle to Cradle programme : http://www.yourglass.com.

AGC Glass Europe, a European leader in flat glass Based in Brussels, AGC Glass Europe produces, processes and distributes flat glass for the construction industry (external glazing and indoor decorative glass), the automotive industry, solar applications and various specialist industries. It is the European branch of AGC Glass, the world's leading producer of flat glass.

Its baseline "Glass Unlimited" reflects the possibilities offered by:

- glass as a material to meet a growing variety of needs (comfort, energy control, health & safety, aesthetics);

- innovation in products and processes, derived from sustained research in advanced glass technology;

- industrial facilities comprising more than 100 production, processing and distribution facilities throughout Europe, from Spain to Russia;

- a worldwide marketing network; • the resources of its personnel motivated by operational excellence and innovation.

- AGC Glass Europe currently employs some 13,000 people.