New Glass opened to the public on Saturday, Feb. 18 at the Zanesville Museum of Art. A reception and hot glass demonstration are scheduled for Saturday, March 31.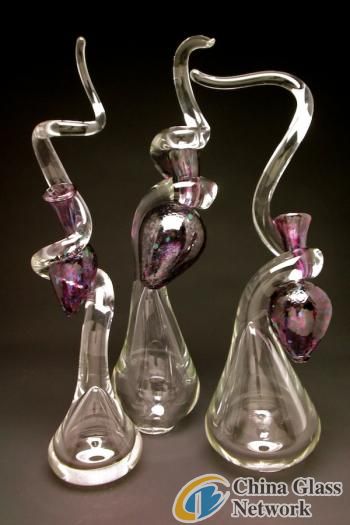 The exhibition will introduce 35 new works ranging from 20 to 40 inches in height. Each is unique, hand-blown, and hand-manipulated, receiving multiple treatments in the furnace and with the torch.
Based on the imagery and techniques of ancient glass, Dawson Kellogg incorporates this knowledge into his innovative sculptural forms.
The Tendril series displays the organic configurations of plant life. Transparent crystal stems rise and encircle deeply-hued component vessels.
More abstract and whimsical are the tall Liquid Vessels. The Vessels are translucent, formed by pouring molten glass onto tables, rolled, re-fired, and assembled into hollow cylinders. Some contain small colored and acid-etched vases that resemble ancient Greek amphoras.
Kellogg is an Associate Professor of Fine Arts/Glassblowing at Columbus College of Art and Design and received his MFA in Glass at Kent State University. He was awarded three Pilchuck Glass School workshop scholarships in the 1990s and was a Corning Award nominee in 1993 and 1995. In addition, he has completed numerous private and corporate commissions in the Columbus area and has shown his work in Columbus and regional exhibitions.
Last spring, Kellogg introduced himself to Zanesville through a "Hot Glass on the Grass" demonstration supported by The PNC Arts Alive Foundation. On March 31, Kellogg and assistants will offer "Hot Glass" again. The demonstrations initiate visitors into the mysteries of glass as an artistic medium. The artists will blow vessels, using a portable furnace to build the forms. Then, with tools similar to those used millennia ago, the forms are amended and separated with a snap from the blowpipe.