New Energy Technologies, which develops technologies for generating sustainable electricity, today announced that the company and NREL scientists collaboratively developing New Energy's SolarWindow technology—capable of generating electricity on see-through glass—have successfully fabricated the largest-area organic photovoltaic (OPV) module ever produced at the US Department of Energy's National Renewable Energy Laboratory (NREL).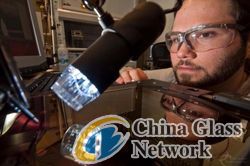 Scientists developing New Energy's SolarWindow technology fabricated today's large area 170 square centimeters (cm2) working module, more than 14 times larger than previous OPV devices fabricated at NREL.
NREL and New Energy have been working through a cooperative research and development agreement to advance SolarWindow technology for generating electricity on glass windows.
Working at lab scale, scientists made use of a solution-processable coating technique in order to deposit see-through electricity-generating coatings on to glass surfaces.
These electricity-generating coatings, consisting largely of polymers, are first designed and subsequently produced by way of organic synthesis; they are then applied to glass using various methods, including high-speed, high-volume industrial processes important to the eventual commercial manufacturing of SolarWindow products. Once electricity-generating polymers are applied to a material surface, the resultant effect is the production of an OPV cell. The prospect of SolarWindow products generating electricity on see-through glass is made possible by way of the unique architecture associated with this fabrication of the OPV device.
Currently under development for eventual commercial deployment in the estimated 85 million commercial buildings and homes in America, SolarWindow is the subject of 10 new patent filings and is the world's first-of-its-kind technology capable of generating electricity on see-through glass windows.