Australia's first mobile glass crusher has arrived in Wellington where it will be based and transported to the surrounding five shires when needed.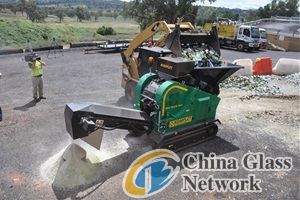 With another Komplet MT5000 to be purchased in Western Australia, mayor Anne Jones said that she was pleased to see Wellington leading the way when it came to innovative waste management.
It is expected to process 900 tonnes of glass between Cabonne, Cowra, Mid-Western and Oberon councils per year, producing sand that can be used for roads, asphalt, and pipe bedding. "Thirty per cent of household products are recyclable and of that 80 per cent would be glass jars and bottles," John Clague said.
The $120 000 project was funded and supported by the Australian Food and Grocery Council's Packaging and Stewardship Forum, the Australian Packaging Covenant and Netwaste Regional Waste Management Group.
National manager for glass recovery and recycling- Packaging Stewardship Forum, Chris Jeffreys was away on a project in New Zealand when she saw the benefits that sharing resources among small councils can bring.
"The sand can be used for any non-load bearing construction," Ms Jeffreys said. Wellington will also soon have two drop off stations for recyclable materials and one in Mumbil, Stuart Town and Geurie.