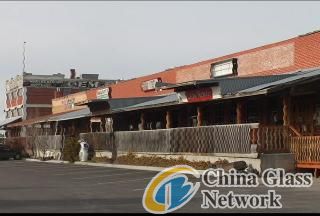 A special art project in the Old Twin Falls Warehouse District is looking for a little help from the community.

A small group of people have started the process of turning a blank concrete wall into a beautiful piece of art to help raise money to start up a local glass recycling program.

Officials say that the 1st 50 feet of a 108 foot mosaic will be entered into this years Arts and Soul art competition.

And if picked to be the winning piece, all of the winnings will be used as start up money for the recycling program.

But this isn't just your average piece of art... the entire mosaic will be made up of nothing but 100 percent recycled or thrown away glass bottles, plates, cups and anything you can think of.

And that's where the community comes in...

"Right now we are just trying to get together to find out what resources we have. Everybody can play a part, even a small part., even if it's just talking to people about keeping their glass or having a place to keep it. Really anybody can play a part, even a small part." Said Tara Rueda

The wall that is being used for the mosaic is on the eastern side of the building which contains Woody's Bar and Reds Trading Post.

If you would like to be part of this art project or if you have extra glass products just gathering dust in the corner.

Next Saturday, March 3rd at 2 in the afternoon, the group will be holding another meeting at Woody's Bar to discuss what will be done next.