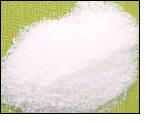 The Directorate General of Anti-dumping and Allied Duties (DGAD) has recommended levy of an anti-dumping duty on import of soda ash, widely used in textiles, from seven nations including Pakistan, China, EU and the US.

The DGAD has made the recommendation of imposing anti-dumping duty of up to US$ 38.79 per ton on soda ash import to protect domestic industries from low-cost imports.

About 90 percent of India's required amount of soda ash is produced by chemical industries in the western state of Gujarat.

In its probe, DGAD has found that increased amounts of soda ash imports have caused "material injury" to the local industry.

In its probe, DGAD, which functions under the Ministry of Commerce, found the chemical being imported into India at prices below its normal value from Pakistan, China, Iran, Kenya, Ukraine, EU and the US.

Earlier, the Alkali Manufacturers' Association of India had filed a petition for levying an anti-dumping duty ranging between US$ 2.38 per ton to US$ 38.79 per ton on import of soda ash.

In India, the recommendation for anti-dumping duty is made by the Ministry of Commerce, while the Ministry of Finance has the authority to impose the same.

India already levies anti-dumping duty on imports of yarn, fabrics and some chemicals like caustic soda.

Under the multilateral WTO regime, countries can instigate a probe to check whether its local industry is being hurt due to low-cost imports, and if found affirmative it can impose anti-dumping duties, as a counter measure to save their domestic industries.