Synseal Pitches Its Roof Business In Europe With Fensterbau Stand
Post Time:Feb 27,2012Classify:Company NewsView:381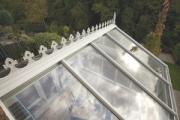 Synseal Pitches Its Roof Business In Europe With Fensterbau Stand
Synseal Extrusions Ltd will travel to meet its customers – and future customers – when it takes a stand at the renowned Fensterbau fair in Germany's Nuremberg.

Synseal is using Fensterbau to increase its customer base throughout mainland Europe for Global conservatory roofs and SkySpace portal frame glazed structures, products for which the company is establishing an enviable international reputation.

Global conservatory roofs have proved to be popular amongst the growing sector for 'English-style' conservatory roofs, and also because these highly-engineered products are adaptable for local design preferences. Synseal intends to develop existing customers in addition to creating new markets.
Source: http://www.glasstalk.co.ukAuthor: shangyi