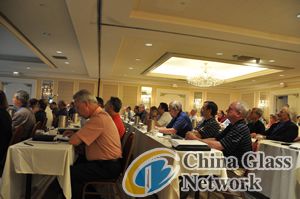 The American Architectural Manufacturers Association (AAMA) of Schaumburg, Ill., kicked off its annual conference this morning in Naples, Fla., and is celebrating its 75th anniversary. The association has a banquet planned for tonight with surprises in store, but this morning was all about membership and marketing.
Richard Walker, president and CEO at AAMA, reported that while 30 new members have joined the association since September 2011, membership recruitment will be one of three key strategic initiatives for the next few years.
"Membership has just about recovered to where it was before the bottom fell out," said Walker. "Many of these were those who said that when the market came back they would be back and they came back."
Earlier this month, AAMA set its objectives for 2012 through 2015 and decided to focus on three key areas:
Expand the educational platform to add value to its members;
Accelerate the development of standards through gap analysis; and
Increase membership and articulate and communicate the value of the AAMA proposition.
Walker reported that in March, members of the association staff will meet to propose programs and services to be discontinued to accommodate the new objectives. AAMA's
Reports at the General Membership Meeting
During the association's general membership meeting, Steve Fronek, vice president of technical services at Wausau Window and Wall Systems of Wausau, Wis., reported that the association and its members are holding their own.
"We have done a good job in the face of severe market downturns," he said. He also mentioned Fenestration Masters and reported that the association is off to a good start with the program.
"This speaks well to the future of AAMA," he said. On the certification front, he reported that 141 locations participate in insulating glass certification. "That's a big deal," he said.
Turning to the "crown jewel" of AAMA, its documents and specifications, Fronek said that both product groups have identified area where new documents might be needed, which includes: building information modeling, shading devices, life cycle analysis, sash lock testing and more.