PPG Industries (NYSE:PPG) announced that its Architectural Glass Binder, a fixture in architects' libraries and offices for generations, is now available in a digital, downloadable format at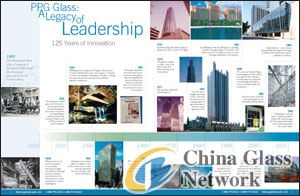 Glenn T. Miner, PPG director of construction, flat glass, said the decision to digitize the binder, which encompasses all the printed material needed to specify or design with PPG glass, reflects the company's long-standing commitment to "green" building and design.
"For decades, PPG has devoted a significant portion of its research and development capability to engineering products that support green building and design," Miner explained. "By launching this digital glass specification binder, we are putting those principles into practice by foregoing all the energy, ink and paper use associated with printing, and by providing architects with an online tool that is always up-to-date and is available anywhere they can access the Internet through a computer or mobile device."
In addition to data sheets, product catalogs and performance data for popular PPG products such as SOLARBAN(R), STARPHIRE(R) and SUNGATE(R) glasses, the online binder contains technical documents, details for thermal stress and wind load analyses and complete product specifications.
The binder is a gateway to PPG's expanding array of electronic specification tools such as the Architectural Glass Configurator, Architectural Glass Performance Calculator and a searchable project library tool containing hundreds of product application photos. Sourcing information for PPG CFP CERTIFIED FABRICATOR PROGRAM(TM) participants, downloadable white papers and dozens of building profiles also are featured. Additionally, architects can use the binder to learn about PPG architectural coatings such as DURANAR(R), CORAFLON(R) and PPG PITTSBURGH PAINTS(R) brand products.