Students at Salem Community College will have the opportunity to watch the ordinary transformed into the extraordinary at the hands of glass art experts at the 12th annual International Flameworking Conference, March 16 to 18.

The International Flameworking Conference provides an additional avenue of learning outside the classroom through glass art exhibits, demonstrations and networking opportunities for SCC glass students, alumni and other members of the glass community.

The three-day event includes a free public presentation on Friday, March 16, by this year's featured artist Jay Musler, whose influence in glass has been felt worldwide. This program begins at 7 p.m. in Davidow Hall on the college campus at 460 Hollywood Ave., Carneys Point.

Musler said he is honored to be a featured artist at the Flameworking Conference and he looks forward to demonstrating the beautiful art that can be created using a glass lathe, a machine that was originally made for use in the scientific glass industry.

"I feel thrilled that I can share my knowledge and experience with other glass artists and students," he said.

Having worked in glass for much of the last 30 years, Musler's art is constantly evolving, including sculptures, bowls, panels, boats and masks. One of his most well-known pieces is "Cityscape," a stunning bowl featuring a city skyline along its rim.

From a paper-mache dog in the fourth grade to a county-fair-award-winning ceramic sculpture in high school, Musler's early days as an artist were experimental. Then, in his senior year, his art teacher introduced him to glassblowing.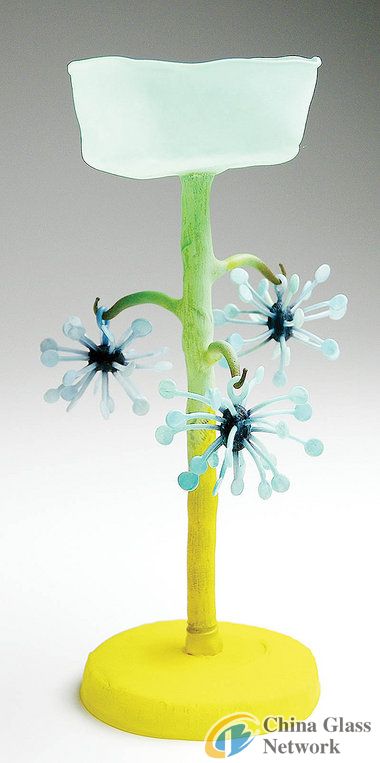 Special to the SunbeamJay Musler, featured glass artist at Salem Community College's International Flameworking Conference, will discuss his work, such as Starburst II, pictured here, during a free presentation on Friday, March 16, at 7 p.m. at SCC.

"Something just clicked," he said. "It was very difficult, but I kept at it."
Following his graduation from California College of Arts and Crafts in the late 1960s, he worked as a glassblower for nearly a decade in a production studio.

"I kept dabbling in glass art until the ideas began taking shape," said Musler, who has been awarded two fellowships by the National Endowment for the Arts. "Then it all came together."

SCC Distinguished Alumnus and world-renowned glass artist Paul J. Stankard, the conference's founder and chair, has high regard for Musler, calling him "a pioneer in the studio glass movement."

Musler sandblasts and oil-paints his pieces, giving them a distinctive appearance.
"Jay's remarkably inventive perception created a new visual language that takes advantage of the flameworking process," he said.

Stankard explained that Musler's highly developed technique, while evident, disappears into the beauty of his work, which is the "mark of a true genius."

The idea of being open to the possibilities of art is a message Musler says he hopes to bring to the public during his presentation "Why? Why Not?" Friday evening.

"Many times in my career, I have had to make decisions about pieces I was working on," he said, "and many times I have made this decision: 'Why? Why Not?' A lot of good things come out of trying new ideas, even though, sometimes, they don't work out. Still, you have to try."

He looks for inspiration in many places such as architecture, literature, photography and music.

Musler's work has been exhibited at several museums, including the Museum of American Glass at WheatonArts and Cultural Center; the Corning Museum of Glass; Los Angeles County Museum of Art; The Metropolitan Museum of Art in New York; the Renwick Gallery of American Art at the Smithsonian Institute in Washington, D.C.; and the Hokkaido Museum of Modern Art in Sapporo, Japan.

The Saturday and Sunday portion of the conference will be held at the Samuel H. Jones Glass Education Center in Alloway. Musler will be joined by fellow glass artists Amber Cowan, Garth Johnson, Jesse Kohl, Christopher McElroy, Margaret Neher, Sally Prasch, Milon Townsend and Jeri Warhaftig.