PPG Industries (NYSE:PPG) announced that it has now shipped 120 million square feet of SOLARBAN(R) 70XL glass, the industry's first triple-silver-coated, solar control, low-emissivity (low-e) glass. To date, Solarban 70XL glass has been installed on more than 1,000 buildings in North America, including at least 160 that have been documented for LEED(R) certification by the U.S. Green Building Council.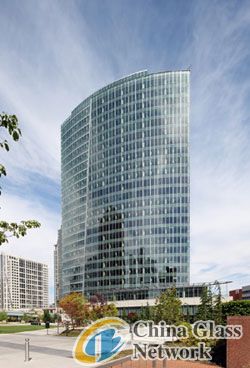 Glenn Miner, PPG director, construction, flat glass, said that Solarban 70XL glass is popular not just for its environmental performance, but for its color consistency as well. "From the beginning, development of Solarban 70XL glass was a collaborative effort involving input from architects and PPG experts from research and development and manufacturing," he said. "Because of their teamwork, we were able to establish a systematic, repeatable approach to formulating and making Solarban 70XL glass so that it looks and performs the same from the first batch of glass to the last."
Introduced in 2005, Solarban 70XL glass has created a new standard for solar control performance for architectural glasses featuring a clear-glass appearance. With a solar heat gain coefficient (SHGC) of 0.27 and visible light transmittance (VLT) of 64 percent, Solarban 70XL glass has a light-to-solar gain (LSG) ratio of 2.37 that remains unsurpassed even more than six years after its introduction.
Solarban 70XL glass has been installed on several buildings that have earned green building of the year awards from the American Institute of Architects' (AIA) Committee on the Environment (COTE). Recent skyscrapers that feature Solarban 70XL glass include RBC Centre in Toronto, One Bank of America Tower in Charlotte, N.C., Three PNC Plaza in Pittsburgh and City Center Plaza in Bellevue, Wash.
"Buildings represent the vision and personality of their architects," Miner said. "At PPG, we understand that specifying the right glass is critical to turning their designs into reality. Architects and building owners value Solarban 70XL glass because the track record shows it places a high premium on aesthetic consistency and solar control performance, just as they do."