From architects and specifiers to contractors and residential painters, the recently launched ppgpro.com website from PPG Industries' (NYSE:PPG) architectural coatings business helps paint professionals easily find the products, information and resources relevant to their needs.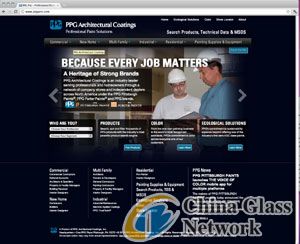 Organized into five professional segments – commercial, new home, multi-family, industrial and residential – ppgpro.com delivers to visitors in two clicks or fewer targeted content such as most popular products, key services and support, color tools and ecological solutions.
Professionals can quickly find the products they need at ppgpro.com with a unique dynamic product search tool that offers more than a dozen filters such as brand, substrate and conformance standard. The search tool makes it easy to identify product features and benefits and to find and save Technical Data and Material Safety Data Sheets.
Additionally, sustainable-building professionals can find detailed information about PPG products' compliance with governmental regulations, third-party certifications and LEED®. The site also offers color tools and services for commercial and residential designers as well as a new intelligent retail locator and the latest PPG Architectural Coatings news relevant to professionals.
"With ppgpro.com, our professional customers now have a one-stop shop for all of our products, services and support," said Dori Marks, PPG senior marketing manager. "This makes it easier for customers to find specific, relevant and meaningful information."
PPG Architectural Coatings is an industry leader serving professionals and homeowners through a network of company stores and independent dealers across North America under the PPG PITTSBURGH PAINTS®, PPG PORTER PAINTS® and PPG brands.