(China Glass Network) On Mar.11, Sinoma Energy Conversation's first glass cogeneration project "Shouguang Sinoma & Guangyao 7.5MW Cogeneration Project" was held ceremony of construction in Shouguang.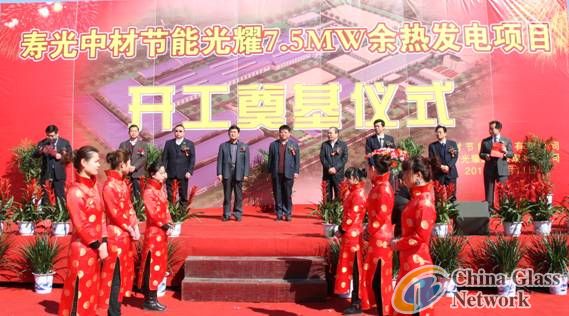 The chairman of Shandong Guangyao Ultra-thin Glass Co., Ltd ZHANG Youliang made an speech on the opening ceremony. He said, "Guangyao adheres to the management idea of "Morality, Respect, Development, Win-win". The cooperation with Sinoma is not only considered from economic efficiency, but also from the view point of social responsibility. Responding national request for energy conservation and emission reduction, it will create economic and social benefits for Shouguang.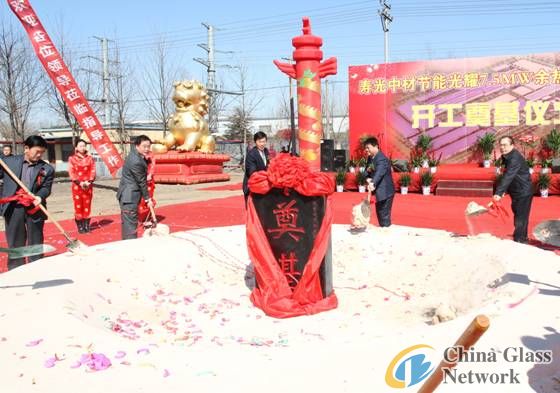 "Shouguang Sinoma & Guangyao Cogeneration Co., Ltd is Sinoma's first project in Shouguang, which are invested by Sinoma and Yaoguang. And Sinoma is responsible for investment, construction and operation," said ZHANG Qi, the president of Sinoma Energy Conversation, " After completion, the project will generate power of more than 48 million KWH, save coal of above 16000 tons, reduce the emission of 4000 tons carbon dioxide. Sinoma will concentrate capital, technology, project management and power plant operation resources to strictly build Guangyao Project. And it will become the model of high quality and efficient project. With excellent quality and construction efficiency, the project will make contribution to the national production aiming at energy saving and emission reduction."
The formal construction of Sinoma & Guangyao Power Station marked Sinoma made an important step in the glass industry. And it will make more contribution to energy saving and emission reduction career.