Osram Opto Semiconductors GmbH of Regensburg, Germany says that, with their much flatter profile, its new Ostar Stage LEDs (which has a flat glass window) provide the basis for compact spotlights with an extremely narrow beam and high luminance. The LEDs are suited to moveable stage lights (moving heads), which provide powerful light beams for rock concerts and other such lighting displays.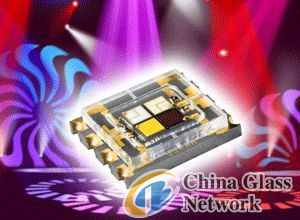 Osram Ostar Stage LEDs for bright spotlighting with color mixing.
Instead of the usual lens, Ostar Stage LEDs have a flat glass cover with an anti-reflective coating, giving the LED a much flatter profile just 1.23mm high (a quarter of the usual height). Spotlights can therefore be made much more compact.
The LED's beam angle is 120°, but the glass cover on the new LEDs has been optimized for injecting the light into lens systems. Its etendue (the emission angle/area ratio of the emitting light surface to the projected light surface) - in conjunction with customer optics - enables a very narrow beam of light (+/-9°) to be produced (smaller by a factor of two than for spotlights based on plastic-encapsulated LEDs). This optimum bundling of the light increases the luminance of the spotlight also by a factor of two.
The new light sources are based on Ostar SMT platform and contain four different chips in red, green, blue and white, so they can produce virtually any color. All four chips are manufactured using efficient thin- film technology so that almost all the light produced internally is emitted at the top and more light can be focused in the customer optics system, says Osram. The individual chips can be operated at a current of up to 2A in pulsed mode, and up to 1A in continuous mode. This gives maximum output of 146lm in red (625nm), 234lm in green (527nm), 1.3W in blue (455nm) and 286lm in white, with a correlated color temperature of 6500K. The overall brightness of an LED at a typical output of 10W can be up to 700lm.
The LEDs has a footprint of just 5.9mm x 4.8mm. Thermal resistance is very low (3.1K/W) and heat removal is no problem at all. In constant use the LEDs will last for more than 50,000 hours (typical), giving the moving heads a very long life.
The LEDs can be used in spotlights of any size, from small stage spots to large moving heads. "Ostar Stage has a wide range of applications with different colors and configurations," says LED marketing manager Volker Mertens. "More color combinations are in the pipeline for the Ostar platform," he adds. "By mixing the different Osram Ostar types it is possible to create an enormous range of colors, including pastel shades," he adds.