Take a big idea, add a healthy pinch of passion, stir in community awareness and you have the recipe for Terra Cressey's overnight success story at GlassRoots Recycling.
The intrepid entrepreneur has been playing catch-up with her business plan from the time word leaked out that she was tired of watching a perfectly good commodity languish in the landfill.
Before she knew it, friends and strangers alike were dropping empty wine and beer bottles off at her home, where, less than a year ago, Cressey was in the formative stages of starting up a recycling operation designed to give the glass new life in the form of landscape material, road aggregate and artistic creations that range from sparkling tiles to jewelry, candle holders, fish tank fill and fused glass.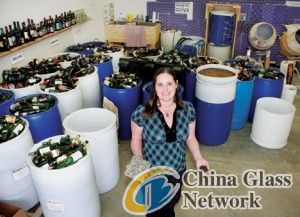 In late winter, GlassRoots Recycling moved into Bay 4 at the city of Sandpoint's Bonner Business Center on Airport Way. A considerable improvement over working from home, the new location allows her to take in more glass and — once the production side of things is dialed in — produce a larger array of recycled items for sale.
"It has just been a big community thing," Cressey said. "We just got started and it's already supported by the community."
Even with the limitations of having only one drop-off day per week, the new business has no trouble with gathering a steady supply of raw material. To the contrary, its biggest hurdle is trying to stay on top of it. How much glass comes in on an average Saturday?
"Too much," Cressey said, breaking into a laugh. "Every week, more people are coming in. I just want to be able to keep up with it."
Although the production bay is fairly small at only about 700 square feet, Cressey has it arranged for maximum efficiency. Patrons are greeted at the door with barrels of sturdy feed bags for transporting the glass, then shown to the sorting area, where pre-washed bottles are placed in other plastic barrels according to color.
From there, Cressey's production "recipe" calls for tumbling and softening the glass in a pair of backyard cement mixers before sifting it through a series of screens to create jewel-like pieces that range from the size of small stones down to the tiniest grains of sand and, eventually, the finest glass powder. The task of sifting was made easier by a piece of equipment built by Cressey's stepfather — whom she has dubbed her "resident genius" — Earle White, a retired machinist and designer.
The invention, called a barrel shaker, also subscribes to the zeal for recycling, using parts from cast-off sporting equipment and unused manufacturing materials to get the job done. Since water is used at every stage as the glass moves from the tumblers to the barrel shaker, White designed a water recycling system that optimizes every gallon that comes out of the tap.
"We don't want to waste anything," said Cressey.
At present, GlassRoots Recycling processes four to five loads of glass each week — a figure Cressey said could easily triple or quadruple if she had more space. The need for growth is being driven, to a great extent, by interest from local businesses that have grown tired of tossing large garbage bags filled with bottles into their dumpsters.
"I pick up glass from about five businesses right now and I'm hearing nothing but positive responses from them," Cressey said. "It used to be that the bags were so heavy that only the guys could take them out, but now they're amazed at how much less trash they throw out each week."
Less garbage means money saved for local restaurants and watering holes, which adds financial kick to any altruistic motives behind glass recycling. For residential donors, the motivation is purely unselfish, to the point where those who deliver their clean glass bottles often sign up to join Cressey's volunteer labor force.
"I've got about 75 names of people who want to help," she said. "It has been humbling to learn that other people can share your vision, if you just let them see it."
In Cressey's case, it's a vision that grows larger almost by the day.
"I can see what I want this to look like when it gets bigger," she said, lining out a direction that includes expanding to a second production bay next door, as well as adding more cement mixers and another barrel shaker. Beyond that, she envisions the addition of a production yard where a cement truck can be converted to an oversized tumbler and recycling can finally stay abreast of the glass coming in the door.
"We've got boxes and bags and truckloads of it coming in all the time," said Cressey. "There are so many uses for it in landscaping, green building projects, artwork — almost anything.
"Working with Sandpoint High School, I've donated over 100 pounds to the art department, which has a glass-blowing class now," she went on. "That's exciting, because if these kids get the recycling bug, they'll continue to recycle as adults."
As bottles pile up on one end of the process and customers start to clamor for more product on the other, some entrepreneurs might feel squeezed in the middle. Not Cressey, whose gaze is set squarely on the big picture.
"All businesses have a bottom line," she said. "My bottom line is that I don't want all this glass to end up in the trash. Ideally, I'd like to work with Waste Management to have glass bins at all the dumpsites and have it delivered to me for recycling.
"The more glass I can take, the more it helps the environment and the community," she added. "Once I get that running, I'd like to go and teach other towns how to do this and show them that, instead of just throwing it onto the planet, we can make something beautiful out of it.
"But right now, I'm taking it one step, one bottle at a time."
Drop-off times for GlassRoots Recycling are Saturdays from 11 a.m. to 4 p.m. at the Bonner Business Center.
A fundraiser aimed at raising money to expand production space and acquire additional production equipment will be held this Saturday, March 31, starting at 9 p.m. at The Little Olive restaurant in downtown Sandpoint.
Cost for the event, which will include live music and tickets for "glass prizes," is $8 at the door.