In 1912, German adventurer-entrepreneur Matthias Kraut came to Manila, shopped around for business prospects, and eventually decided that stained-glass art would be a sound venture.
He thought then that the prospects for growth were bright because new parishes were being built, and the well-off wanted to beautify their homes with this centuries-old art form.
Kraut's faith in his company paid off as Kraut Art Glass quickly grew and prospered with its reach expanding from the capital to the rest of the country.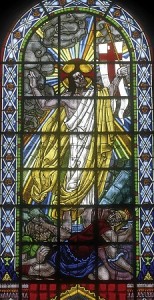 A hundred years after it was set up, the company continues to thrive under the direction of Kraut's grandchildren.
Kraut married a Spanish woman from Tarlac, Pilar Gonzalez, who bore him seven children—all male.
Three of the sons decided to go to their father's native land, Germany, where they settled down, while three others decided to remain in the Philippines and look after the family business.
The youngest, Robert, opted to become a high school teacher of English at De La Salle and married a Filipina, Mona Liza Roxas. And it is their children – Robert Jr., 36; Roland, 34, and Rochelle, 32 —who are now managing Kraut Art Glass. Robert and Roland took up Business Management at De La Salle University while Rochelle graduated with a degree in Child Psychology. She followed their father's example for a while, became a teacher, but after five years, she joined her brothers in taking care of the firm.
CHURCHES house the larger works of Kraut Art Glass.
"Our studio is in Dominga St., Pasay City and we grew up around the workplace," recalls Robert Jr., who is President of Kraut Art Glass. "And so it was inevitable that we would learn the art first hand."
The three siblings are thus both artists and business executives.
"While we are already well known in the market we have to reinforce, update our product lines," he notes. "Because there are more decorative jobs, materials, products … so as time went on, we had to come up with something new."
The big projects are for the churches, while the smaller works—decorative, figurative, and more for ornamentation—are for residences.
Kraut Art Glass appears to be the leader in the field, although market share is hard to determine.
"Business has been okay, we cannot complain," Robert says. In fact, the company's booth at the recent expo at the World Trade Center in Pasay City attracted quite a number of potential buyers.
"Our company has grown slowly, we are not really worried about market share," he observes. "We focus on making each project as good as possible, participating in exhibits, and keeping our clients up-to-date on what's new with us."
Robert concludes: "That's what I find interesting, always finding something new, always moving to the next level, reinventing yourself."