(China Glass Network) China's First "Security Application of Structure Sealant" Summit Forum, hosted by Baiyun Chemical, was held grandly in Guangzhou Poly World Trade Expo Hall。
Elites of the industry gathered in the summit forum, officials and experts of association, consultation institutions and enterprises discussed industry hotspot of "security application of structure sealant" and "safety testing of curtain wall" from multiple perspectives, they also had deep expansion of the application security of structure sealant on modern architecture especially high-rise buildings.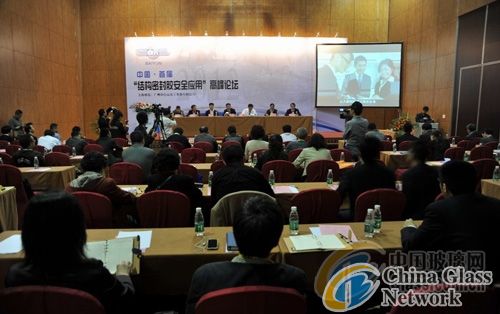 This is a high-level summit forum which has realistic meanings on attention for security application of structure sealant on glass curtain walls and gained attention from all walks of life."The ultimate goal seeking by a country is not just the growth of GDP, but the comprehensive development of society, economy and environment. The real need of a company is not only the growth of economic benefit, but also the strength of social responsibility and innovation ability. We have more than 27 years experience in sealant production and attach great importance to the security application. We are glad and honored that we can host the summit forum with the support and attention from government and the industry." Zhang Yuanjiang, chairman of Baiyun Chemical told the journalist.