(China Glass Network) What can we do on the roof except drying the quilt? Here comes a new answer, that is for power generation. The largest Roof PV Power Station of Anhui Province, which is also the first-stage project by Hefei Golden Sun Company has passed the national acceptance inspection and went into operation.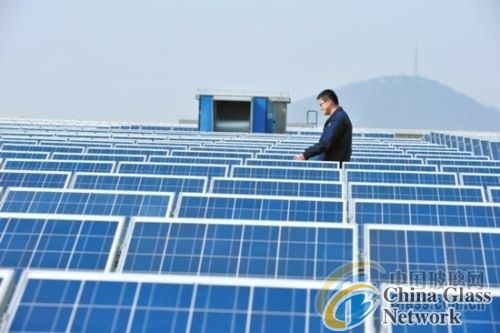 Save more than 100,000 RMB of electric charge
The journalist noticed that housands of "Blue Boards" faced the south are displayed on the roof.
"Thy can get the most amount of insolation when faced with the south ." Officials of Equipment Management Department of Golden Sun said, "The blue board is photovoltaic module, there is a junction station on the back of the board. The solar energy can be converted to electricity and sent to public power distribution network of the company."
The "Blue Boards" can generate power both cloudy and sunny days. "Generating capacity is less than sunny days. It can partake 25% of the power consumption and help us save more than 100,000 RMB of the electric charge."
It is not long to step into homes
Hefei high-tech zone was recognized as one of the 13 "Demonstration areas of PV power utility" in 2010 and the government also listed solar industry as the pillar industry of "12th Five-year Plan"."The project can save standard coal consumption about 5344 tons, carbon dioxide emission 14429 tons and reduce emission of dust and soot." The officials of Golden Sun tell the journalist,""There are about 20,000 square meters of the roof in Hefei by now has installed power board and they are mainly for commercial use. "
"
In fact, it will not take too long for roof power generation to step into homes of