PPG Industries (NYSE:PPG) has published a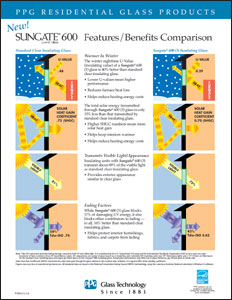 Sungate 600 glass is a passive, low-emissivity glass that is designed to help homes retain furnace and solar heat, especially in cold, northern climates. In a standard 3/4-inch residential IGU, Sungate 600 glass has a winter nighttime U-value of 0.29, along with visible light transmittance (VLT) of 72 percent and a solar heat gain coefficient (SHGC) of 0.70.
PPG engineered Sungate 600 glass for use with SOLARBAN(R) solar control, low-e glasses. The data sheet illustrates a dual-pane IGU that incorporates one pane of 3-millimeter Solarban 60 glass on the second (No. 2) surface of the IGU and one 3-millimeter pane of Sungate 600 glass on the fourth (No. 4) surface, separated by a 1/2-inch of argon-filled space.
The dual-pane, dual-coat configuration enables the IGU to achieve R-5 (U-value of 0.22 or better) "center-of-glass insulating" performance. That means window makers can meet new energy-efficiency goals being emphasized by the federal government without incurring the expense and material costs associated with triple-glazed windows.