(China Glass Network) The signing ceremony of Wenchang PV glass sand & quartz micropowder production base was held in Haikou City, Hainan Province. The project is generally contracted by CTIEC and invested by Hainan International Recourses Group Co., Ltd, which can achieve capacity of 260 thousand tons of PV glass sand and will be the largest production line of this kind in China. The sinning of contract is the key step of for CTIEC to carry out the spirit of "Promoting cooperation between central enterprises and local enterprises", it's also the important component of strategic cooperation agreement between CTIEC and Hainan Province.
Officials of Hainan Geological Survey, CTIEC and Hainan International Recourses Group attended the signing ceremony.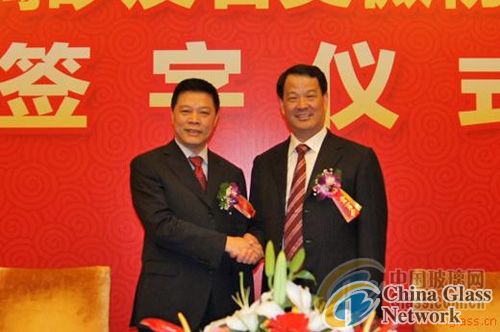 Hainan International Resources Group Corporation Limited was founded in January 2010, with the approval of the Hainan Provincial Government. It was restructured from former Jindi Industry Co., Ltd., jointly invested by Geologic Bureau of Hainan Province(controlling shareholder), Hainan Haigang Group Co., Ltd. and China-Africa Development Fund. The signing of the contract marks a step up of cooperation between CTIEC and Hainan International Recourses Group Co., Ltd.