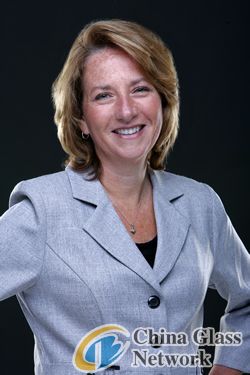 Recently named one of the 50 most influential women in west Michigan, Linda Vos-Graham, president of Vos Glass Inc. in Grand Rapids, Mich., says she doesn't feel uncomfortable being a woman in a pre-dominantly male industry.
"I'm second generation in the industry," she says. "Many people I work with also worked with my father. I'm warmly welcomed and well-respected. I work with all guys at work and all guys at home, I have two sons, so I'm used to having all men around me. It's a very rewarding industry."
Says Ken Werbowy, president of Tubelite Inc. in Walker, Mich., "Vos Glass has grown significantly under Linda's leadership and it is only fitting that she be recognized for her contributions to not only her company, but to the West Michigan business community in general."
Vos-Graham's father, Clarence (Jake) Vos, started Vos Glass in 1982, and was an icon in the industry, she says. "I was clearly doing something in a different direction, but joined my father in 1983 to help the family business," she says.
She wore many hats in the retail and automotive divisions and then moved into the office to become the president. "My father's focus was on contract glazing," Vos-Graham says. "I added retail operations when I got on board. Now we're one of the largest glazing and contract glazing firms. We handle a full spectrum of services and products. You don't see that too often."
The company services western Michigan, has more than 50 employees and annual sales in excess of $10 million, Vos-Graham says.
Tthe industry has changed a lot since she joined, Vos-Graham says. "For us, it changed in size and scope of the products, the suppliers have consolidated, competitiveness has intensified because of the economy, but that only makes you smarter, stronger and more innovative," she says. "In the retail sector, we've seen a great deterioration in independently owned shops because of insurance and national chains and networks. We entered the auto glass market in early 1980s, and there were more independently owned businesses that have now dissolved because of the national chains. You'll always have competition. You just have to stick to your core strengths and be innovative."
Vos-Graham infuses her core strength in the people with whom she works, according to Rick Hecklinger, regional sales manager for Pilkington in Toledo, Ohio."Linda's high level of professionalism is contagious, affecting those who work with and around her," he says.
In addition to inspiring others and running a successful company, Vos-Graham founded the Michigan Glass Association in the 1990s and was the president for eight to nine years. She also was one of the leaders of the American Subcontractors Association of Michigan.
Her advice for success: "Study who you are, adjust, innovate and have a plan. You have to have a plan in order to succeed," she says.