This is the Year of Glass.
From Wausau and Newark, N.J., to Sacramento, Calif., and Kalamazoo, Mich., scores of museums are honoring the 50th anniversary of studio glass, a transcendent art form that is powerfully malleable, notoriously fragile and stunningly young.
And it was born here.
While the sight of an artist blowing, bending or molding glass into a complex sculptural work is something we might take for granted today, it did not exist before Harvey Littleton, a UW-Madison art professor, fashioned a small furnace on his rural Verona farm. He began holding glassmaking classes there in 1962, creating the first university hot-glass program in the nation.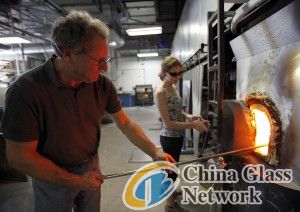 Before that, glassmaking was confined to large-scale factories where designers came up with concepts and factory craftsmen mass-produced them.
Littleton put glassmaking skills and technology directly into the hands of an artist to create one-of-a-kind objects of beauty.
"You have to remember that when Harvey Littleton started this in 1962, there were no art galleries carrying glass. There were no collectors buying glass. That world has exploded," said Michael Monroe, guest curator for Madison's upcoming tribute to the studio glass movement titled "Spark and Flame: 50 Years of Art Glass and the UW-Madison," which opens April 21 at the Chazen Museum of Art.
The show will feature one gallery dedicated to Littleton, the "Spark" that launched an art movement. Another will display works by almost 100 glass artists from all over the world.
"It will be a phenomenal experience for people to see how this started very humbly with one man and his relentless pursuit" to establish an entirely new field in contemporary art, said Monroe, a Wisconsin native and former director of the Renwick Gallery, a branch of the Smithsonian's American Art Museum dedicated to American craft.
The Chazen show will be "all about color and reflection, light and material," Monroe said. "Ninety percent of the glass artists you will see (represented) there can trace their roots back to the University of Wisconsin, back to Harvey Littleton, and what he did to get this whole movement growing."