Feast your eyes on 100 hand-made art-glass vases, coupes, lampshades and other art pieces by renowned French glass blower Jean Claude Novaro in a three-day exhibition which opened on Tuesday night at Royal Treasures Gallery in Dubai.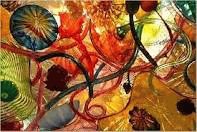 Known as the King of Modern Glass, Novaro was joined by Shaikh Mohammad Bin Kayed Al Qassimi, Head of Ras Al Khaimah (RAK) Economic Department and Member of RAK Ruling family at the opening of the exhibition.
Making vases from glass is an extremely complicated and laborious task as opposed to making it out of ceramics, which one can do by hand.
Glass blowing, a technique invented about 2,000 years ago, employs the use of a pipe which is dipped into a pot of molten glass in a furnace whose temperature could be around 2,200 degree Fahrenheit. The glass is then blown from the tube to make it expand into a bubble and shaped according to the glass blower's design in mind.