In a scene that would be familiar to generations of artisans from the past, Anthony Corradetti shapes molten glass in the same way glass blowers before him have done for centuries.
Working in a Baltimore, Maryland, studio converted from an historic 19th-century foundry building, Corradetti is not making ordinary household items. Instead, he creates works of art.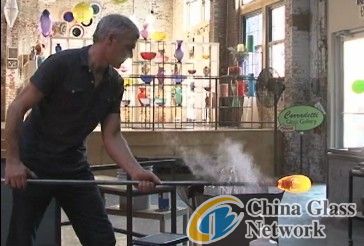 The craft of glass blowing dates back more than 2,000 years. In the United States, it can be traced back to the early 1600s and the earliest European settlers.
In the last half-century, glass blowing has enjoyed a resurgence, but this time as an art form.
"It was a kind of a field that got taken over by industry," Corradetti says. "And they needed less glassblowers because everything was made by machines. But in the late 60s or early 70s, people started treating it more as an art form and teaching it in art schools. And now there're just some amazing things being made out of glass in small studios, such as mine, all over the country."
The first step of glass blowing is to collect the molten glass on the end of a hollow steel rod, or blowpipe, which is then cooled down with water.
The item is shaped as the ball of hot glass is expanded by air pressure. Sometimes different colors are added and the piece is reheated in a furnace with temperature of more than 1200 degrees Celsius [2200 F].

Finally, the completed piece is detached from the blowpipe and given its final touches. It is then kept in an oven for 24-to-48 hours, to keep it from cooling too rapidly and cracking.

The process might look simple, but Corradetti says it takes a lot of attention and hard work. He also notes it's always a crowd-pleaser.

"People are really interested in glass blowing. It's a kind of thing that everybody has seen it as a child somewhere, and it leaves a big impression," he says. "Because when you watch glass blowing, it's kind of magical. It's the kind of thing that everybody wants to try once in their life."

Corradetti taps into that interest by offering classes and workshops. He also sells his own work - ranging from small decorative items and jewelry to large, artistic pieces - in the studio's gift shop.

After more than 30 years as a glass artist - first as a student and then operating his own studio - Corradetti still gets a thrill out of it.

"I like being in the environment," he says. "I like everything about it, the heat and just everything that goes along with making glass. The tools and the sounds and the smells and everything about it - I enjoy. I would never do anything...I couldn't do anything else."