Auckland glass artist Ann Robinson attended the preview of her latest exhibition and discussed her glittering career with Queenstown clients and enthusiasts over the Easter holidays.
Hailed as New Zealand's most prominent glass artist, Robinson provided 12 of her works in "The Thick and Thin of It" in Milford Galleries Queenstown. The show opened with a free public preview, attended by the artist, on Friday.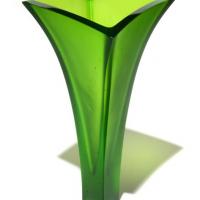 Robinson returned to the Church Lane gallery on Saturday to give a talk about her career and process.
Art consultant Vanessa Eve Cook, of Dunedin, said Robinson's "stunning cast glass works demonstrate balance of form, remarkable skill and extensive knowledge, masterful control of light and colour and a South Pacific narrative".
The 68-year-old artist's accolades included the American Glass Society's Award for Lifetime Achievement, in 2006, an Arts Laureate by the Arts Foundation of New Zealand, in 2004 and the John Britten Award for contribution to New Zealand design, in 2002.
She was awarded the New Zealand Order of Merit in 2001.
"The Thick and Thin of It" runs until May 2.