Jean-Claude Novaro uses the ancient craft of glass-blowing to create contemporary works that are sought after by art collectors and museums around the world. The French artist is known as the King of Glass because he has invented many new techniques over the past five decades, constantly pushing the boundaries of glass art in terms of colours, shapes, materials and the sizes of the pieces he creates. He holds the Guinness World Record for the largest hand-blown coupe, which weighs 10 kilograms and has earned him recognition as the greatest glass-blower of our time.
The artist is based in Ras Al Khaimah, and recently unveiled his first collection made in his factory in the emirate. The collection showcases Novaro's amazing technical and artistic skills. It includes signature Novaro pieces such as the Art Deco lamps that got him noticed in the art world; his famous bubble bottles, where he carefully introduces large bubbles into the glass during the blowing process, and his "aquarium" designs that seem to have colourful fish floating inside the glass. There are many new versions of his favourite fish and clown sculptures and his "melting glass" designs depicting substances spilling out of pitchers and glasses and partly molten sculptures.
Also on display are pieces with gold, silver and coloured natural stones incorporated within the glass layers. A special feature of the collection is the decorative pieces that glow in the dark. These are based on his latest innovation of a luminescent plant extract that can be added to hot, molten glass. The artist is also exhibiting a 13-kilogram glass bottle he created in February, surpassing his own Guinness record that has remained unbroken for 20 years. Another large piece in the exhibition is a life-size sculpture of a clown depicted as an artist with his palette and brush in hand.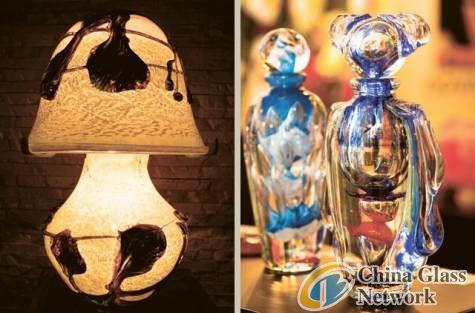 "My aim is to always do something exceptional and different from what has been done before. I do not read books or look at the work of others, because I do not want to be influenced by anybody else. I work alone in my studio and every piece I create comes from my own imagination and is one of a kind," Novaro says.
The artist's love affair with glass began at an early age, mainly because he was born in Biot, a town that is known as the glass-making capital of France. "After school I used to play near a glass factory and loved to watch the glass-blowers. Once they invited me to try it myself and I loved it so much that I became an apprentice at the age of 14, and have never stopped working with glass," he says.
From the beginning, Novaro showed a special talent for glass-blowing. In fact, while it usually takes over 15 years to master this craft, he became a "maitre verrier" or master glassmaker in just six years at the age of 20.
"I have worked very hard to achieve my goals. When I was working at the factory, I used to make small glass animals that I sold to tourists for a few francs. At 30, I set up my own studio, because I wanted to make something different from what was produced in the factories. In those days, I used to collect broken glass bottles from trash bins to do my experiments with colour. But at the high temperatures used for blowing, the colours would be rejected by the glass. It has taken me years to perfect the techniques that allow me to use a broad spectrum of colours. I have also spent years developing ways to amalgamate metals such as gold and silver and coloured natural rocks into my pieces," he says.
Novaro's work is physically demanding. He spends hours standing close to a very hot furnace, inhaling caustic fumes from the chemicals he uses. Rather than using a wooden mould, he actually moulds the hot, molten glass by hand, using wet newspaper. For his large pieces he blows through a two-metre-long pontil.
Pulling and turning the more than 30-kilogram lumps of molten glass has affected his back and has had to undergo many surgeries. "When I was blowing the 13-kilogram piece, I had to get somebody to hold my legs to stop me from falling into the furnace," he says.
But these difficulties have not dimmed his passion for his work. The 69-year-old is enthusiastically looking forward to realising ambitious new projects in the UAE. "My next challenge is to create a seven-metre glass tower for an outdoor location in Ras Al Khaimah," he says.