A safety concern about falling glass from downtown condominiums is prompting a developer to take precautionary measures.
Concord Adex sent letters this month to residents of three condo towers — Parade at CityPlace near Front St. and Spadina Ave, and Discovery I and II at Concord Park Place near Sheppard Ave. E. and Provost Dr. — advising them of plans to immediately install protective mesh on their glass-paneled balconies as a safeguard.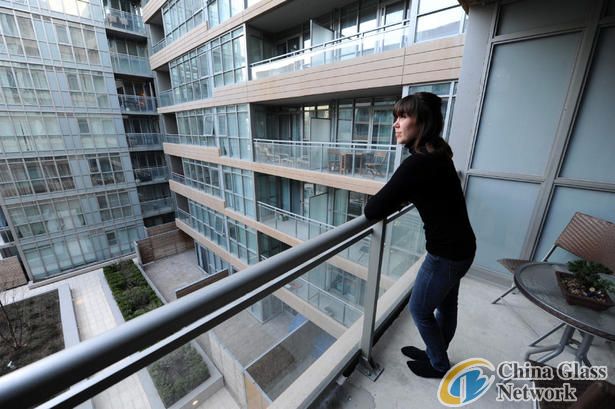 Balcony glass exploded in a handful of downtown condominiums last summer. Pedestrians were hurt, though their injuries were described as minor, as glass shards fell to the street.
Since Concord used the same glass supplier, it didn't want to take any chances, Arash Beheshti, Concord's vice-president of construction, explained in the letter sent to residents. He said there is no evidence that the glass is "deficient," but since other developers have had problems, "we are not taking chances with people's safety."
The developer has been working with a glass expert, architects and engineers to understand the problem, he added.
Trudy Clark and her husband who live on the 6th floor of 10 Capreol Crt. are pleased Concord is being proactive.
"They are doing this to prevent any accidents and for the safety of all the people in the condos," she said.
"It's good. It seems like they are doing the right thing and that's the way they presented it," she added.
Clark isn't worried about her own safety, but since her balcony overlooks a common courtyard-barbeque area where some units have private terraces, she doesn't want anyone below getting hurt.
"If something were to fall on those terraces, it would be a pretty big concern," she said.
Cathy Carr lives in one of those units.
"I guess I should be concerned because if glass fell, it would fall right on my patio," she said.
But since she is a tenant and moving to Ottawa at the end of May, it is not really an issue for her.
"I guess if I were an owner I'd be wondering if (the protective mesh) was really going to do the trick. And I'd be concerned it wouldn't look all that great."
Phone and email messages to Concord Adex were not returned Sunday.
Area Councillor Adam Vaughan is pushing for answers.
Toronto's building department has been investigating the falling condo glass and has sent its findings to Queen's Park to see if the provincial building code needs to be reviewed, Vaughan said.
"But it seems to be more of a manufacturing issue than a code issue," he said.
"Glass spanned the way it is and mounted on the outside of a balcony is not the problem if it is manufactured properly," he said. "The question then becomes, is it an external coating on the glass or an internal laminate? What's the best way to strengthen it so the span can still be reached?
"I think they have come to the conclusion that internal laminate is the best way to go," he said. "I think it has to be the industry standard."
Lanterra Developments, which had problems last summer, is replacing tempered glass panels in balconies with laminated glass similar to that used in car windshields.
The next issue for downtown condos is wind, Vaughan said. Glass is tested for strength against someone pushing out from the inside. However, only now is it being tested for wind shear, or wind pushing from the outside.
"Is the wind creating a condition that is weakening that glass? We haven't got an answer back on that yet," he said.